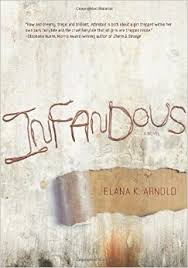 Arnold, Elana. Infandous. Minneapolis: Carolrhoda LAB, 2015. 978-1-4677-3849-1. p. 189 $17.99 Gr 11+.
In Infandous, author Elana Arnold beautifully weaves Grimm's original fairy tales with the story of Sephora Golding.  Sephora knows better than to believe that there is a happily ever after, especially since her grandparents abandoned her beautiful supermodel mother at the age of sixteen when they found out she was pregnant.  Sephora and her mother, Rebecca, scrape by in a one bedroom apartment in rundown Venice Beach, California.  Her art is finally getting noticed, and she gets a crap-paying job at Riley Michael's Surf Shop.  This is where her latest sculpture turned photo becomes the next big thing in Venice Beach.  There is no happy ending, but readers are left with the feeling that life gets better for Sephora.
The book is definitely for the mature reader.  Sephora describes her sexual encounters in detail and isn't shy about the abuse she's suffered.  The author points out time and again that Disney changed the fairy tales to make the story easier to stomach than Grimm's original tales.
Realistic Fiction/Fairy Tales   Laura Ward, Fox Chapel Area High School