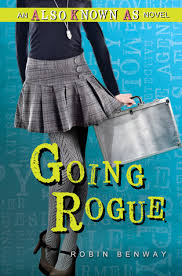 Benway, Robin. Going Rogue (Also Known As Book 2). New York: Walker Books, 2014. 978-0-8027-3604-8. 306p. $17.99. Gr. 8+.
Maggie Silver, seventeen year old international safe-cracker, has finally settled into a "normal" life in Manhattan.  She has a best friend, Roux, a boyfriend, Jesse Oliver, and is thinking about her future (and the SATs) when her parents are accused of stealing from the Collective, the international spy/Robin Hood-ian organization they have devoted their lives to.  With her parents under suspicion, it is up to Maggie to figure out who is framing her family and bring them down without anyone finding out (because her parents would totally freak out if they knew).  As Maggie pieces together the clues, she employs Angelo, forger extraordinaire and life-long friend and ally of her family, to help with the case.  What Maggie doesn't anticipate is that by trying to hide her investigation she ends up entangling her family, best friend, and boyfriend into the Collective's maniacal plot.  It is up to Maggie now to save her friends and family, while figuring out what's happened to the Collective.
Going Rogue is a great addition to a YA collection.  Maggie is an entertaining female protagonist who readers will easily identify with because of her relationships with Roux, her best friend, and Jesse, her boyfriend.  These three, although involved in an international crime-solving exploit, still struggle with emotions associated to growth and maturity.  Going Rogue is a very quick, fun mystery, along the lines of Ally Carter's Heist Society.  I can't wait for Maggie's next adventure.
Mystery    Erin Parkinson, Lincoln JSHS, Ellwood City