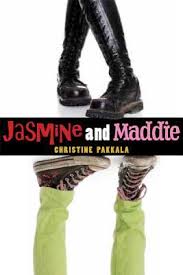 Pakkala, Christine. Jasmine and Maddie. Honesdale, PA: Boyds Mills Press, 2014. 978-1-620917-398. $16.95. Gr. 5-8
Imagine losing your father to cancer and moving to a new school all within the span of middle school.  Now throw in that your mother can't make ends meet, and you never see her because she is working two jobs.  Jasmine is struggling to keep it together when she is displaced to a new school.  The first day she arrives, the girls in her class are mean to her.  She wants to go anywhere but the new town where she is living. Maddie, a middle child who can't seem to do anything right, has just been cut from the soccer team.  Kate, her best friend, is obsessed with anything soccer, so Maddie is pushed to the side.  The story, told from both Maddie and Jazmine's perspective weaves together a lesson of what can happen when friends take each other at face value.
Realistic Fiction   Brooke Gerlach, Manheim Central MS
Butcher, Kristin. Alibi. Victoria: Orca Book, 2014. 978-1-459807-686. 133p. $16.95. Gr. 5 and up.
Spending the summer with your great aunt when you're fifteen may not sound exciting for a teenager, but for Christine, it is truly a gift.  Shortly after arriving at Great Aunt Maude's house in Whitcombe, British Columbia, Christine is working in her aunt's antique shop when they decide to offer a walking ghost tour for the tourists in town. Recently, the area has been experiencing thefts, and people are suspicious. On the tour, Christine notices Simon, a boy who sneaks off to the abandoned mansion, leaving the tour. After following him, she realizes he is holed up in the mansion.  Curious to know more, she follows him and investigates his makeshift home. Does this boy have anything to do with the robberies, or is it just a coincidence he has shown up in town as the burglaries have begun? Part of the Orca Currents series, Alibi is a high interest/low level read. Readers will be able to gather information about the characters without having to follow multiple plots and side stories. There is a hint of romance, but not so much that it detracts from the main plot. Readers will find the straightforward mystery is easy to follow and entertaining.  Without many twists and turns in this mystery, any fan of quick reads will enjoy this read.
Mystery    Brooke Gerlach, Manheim Central MS