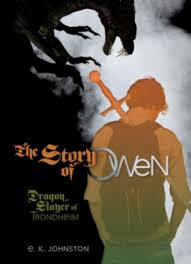 Johnston, E.K. The Story of Owen: Dragon Slayer of Trondheim. Minneapolis, MN: Carolrhoda Lab, 2014.  978-1-46771-066-4. 305p. $13.51. Gr. 9-12.
Siobhan McQuaid's life in the small town of Trondheim is pretty normal until a new family of dragon slayers moves in. Normally her town is left to defend the dragons on their own, but now the townspeople are in awe of the newly retired famous dragonslayer, her brother, and her nephew, Owen, who happens to be in Siobhan's class at school. Soon Siobhan is enlisted to be Owen's bard: the writer, follower, enthusiast who champions all of Owen's adventures with dragon slaying. But as more and more dragons come to the area, Siobhan and Owen discover a new hatching ground and all of their lives are on the line.
Winner of the William C. Morris Debut Award, this is Johnston's first book, and its sequel, Prairie Fire, was just published in 2015. The story has a good message that will resonate with kids: normal, average students can make a difference in the community.  
Fantasy     Nicole Starner, Biglerville HS/Upper Adams MS