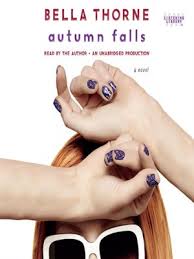 Thorne, Bella. Autumn Falls. New York: Delacorte Press, 2014. 978-0-385-744331. 217 p. $18.99. Gr 6-12.
Disney channel star Bella Thorne enters the world of YA literature with her light-hearted debut novel, whose main character was inspired by the actress herself. Autumn Falls is the new girl in town, moving to Florida to be close to her elderly grandmother after her father tragically dies in a car accident. Missing home, her father, and her best friend back in Maryland, Autumn struggles to fit in socially and academically due to dyslexia. She just wants to cruise through the school year after making a few friends, but high school is never that easy, and when she starts crushing on school jock Sean, she soon finds a nemesis in mean girl Reenie, who makes it her goal to humiliate Autumn in any and every way possible. When her grandmother gifts her a magical journal from her late father, Autumn discovers that wishes written in the journal start coming true, but she begins to see that the outcome may not be exactly what she wanted after all. Predictable, but relatable and well-paced for tweens and teens, Autumn Falls has a sequel due in November.
Fantasy    Vicki Schwoebel, Friends' Central School
I plan to book talk this at our next assembly, as it was only just recently donated, and I imagine it will fly off the shelves. Beginning the book, I didn't realize that Bella Thorne was even a star, but after talking to a few middle schoolers, it seems that she is and quite a popular one! So to start, the author is wildly popular, and the story is cute and fun in a way I can see MS girls falling in love with.