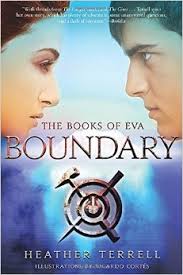 Terrell, Heather.  Boundary: The Books of Eva.  Soho Teen. New York, 2014 271p 978-1-61695-199-3 $18.99 gr 7+
Boundary is the second book in Terrell's The Books of Eva series.  After Eva is the sole maiden in the yearly testing and manages to win the coveted laurels, she becomes the newest archon in New North.  This is where Boundary picks up Eva's story.  Eva finds herself torn more that ever.  She is now an archon and a maiden and betrothed to Jasper, her longtime family friend and former competitor for the laurels.  As Eva immerses herself further into her archon work she ends up at another dig site.  This time with the assistance of the only other female testor in New North history, Madeline.  She uses Madeline's journal as a guide to find the Founder's ship, Genesis.  What is inside furthers Eva's suspicions of the truth.  With the help of her Boundary companion, Lukas, they are able to unlock the mysteries of the New North's true beginnings.
Complete with plot twists and suspense, Boundary is a great second book for the series.  The best part is author Heather Terrell lives in the suburbs of Pittsburgh and is willing to do school visits for free.  Relic, the first book in the series has an educators' guide that the publisher is happy to share too.
Dystopian  Laura Ward, Fox Chapel Area High School