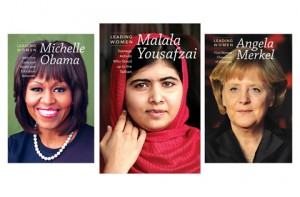 Leading Women (series).  New York: Cavendish Square, 2015.  112 p.  $28.00 ea.  Gr. 9-12.
Cupp, Tanya. Angela Merkel: First Woman Chancellor of Germany. 978-1-62712-978-7.
Endsley, Kezia. Michelle Obama: 44th First Lady and Health and Education Advocate. 978-1-62712-975-6.
Pettinella, Amy. Queen Latifah: Award Winning Actress and Hip-Hop Activist. 978-1-62712-984-8.
Pettinella, Amy. Sheryl Sandberg: COO of Facebook and Founder of the Lean In Movement. 978-1-62712-987-9.
Shoup, Kate. Kate Middleton: From Commoner to Duchess of Cambridge. 978-1-62712-981-7.
Small, Cathleen. Malala Yousafzai: Teenage Education Activist Who Defied the Taliban. 978-1-62712-972-5.​
This series includes biographies of leading women in various fields, including politics, education, business, and the arts.  In addition to each woman's life story, each book includes some background information about the social and political climate surrounding their lives.  Quotes and colored photographs are also dispersed throughout each book.  The books end with a timeline, glossary, and list of references for further information.  These titles are slim, easy reads that would be great starting points for researchers who want to learn more about these women.
921; Biography            Julie Ritter, Montoursville Area High School
I personally read the biography for Malala Yousafzai and skimmed through some of the others.  The book included some excellent background information about life in Afghanistan before the Taliban and explained how the Taliban came to power.  However, if I was looking for a biography of Malala Yousafzai, I would stick with her original 2013 memoir, I am Malala: The Girl who Stood Up for Education and Was Shot by the Taliban.