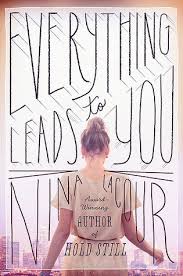 LaCour, Nina. Everything Leads to You. New York: Dutton, 2014. 978-0-525-42588-5. 307p. $17.99. Gr. 9 and up.
18-year-old Emi is an aspiring production designer living in L.A. and trying to get over her first love.  When she attends the estate sale of a deceased movie star in search of props, she and her best friend, Charlotte, come across a letter written by the famous star.  They decide to track down the intended recipient of the letter.  This is how they meet Ava, and it doesn't take long for Emi to develop a crush on her.  As Emi and Ava spend more time together, Emi's heart begins to heal.  She soon learns that life is not a Hollywood fairy tale, but she wouldn't want it any other way.  People are lovable in spite of their flaws, and heartbreak and hurt simply make the joys and triumphs of life even more beautiful.  This is a beautiful love story with a message that we all need to remember.
Realistic Fiction   Julie Ritter, Montoursville Area HS
Because the main protagonist of the story is a lesbian, this would be a great addition to LGBT collections.  In addition, the behind-the-scenes look at how movies are made will appeal to fans of Amy Finnegan's Not in the Script and Lauren Conrad's L.A. Candy series.  This would also be a great title to hand to anyone who is simply looking for a well-written, realistic love story.