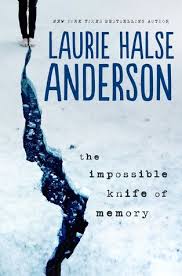 Anderson, Laurie Halse. The Impossible Knife of Memory. New York: Viking, 2014. 978-0-670-01209-1.  $16.19. 391p. Gr. 9 and up.
Hayley and her dad, Andy, have decided to settle down and attempt to live a normal life.  No more traveling across the country in an 18-wheeler, moving every few months.  Now Hayley is enrolled in high school and living in her grandmother's house.  While her best friend tries to help her remember their childhood romps and adventures, her memory refuses to recollect any of these occurrences.  School tends to be a little monotonous, but math is unfathomable until her teacher provides a tutor, the handsome and charming Finn.  Underneath snarky banter and coy flirting, Hayley begins to share truths with Finn.  Her tenuous stability is suddenly shaken when her father begins losing his grip with reality as his PTSD racks him with war-time memories.  In an attempt to cope, he indulges in drinking and recreational drugs.  In the guise of help, Hayley is suddenly confronted by an adversary from her childhood.  Even with help, how can she save someone who has relinquished his desire to live?
Hayley's first person narration is harrowing and candid.  Her own demons have caused her to repress childhood memories as she takes on the role of parent and cares for her dad, a veteran who served in Afghanistan and Iraq.  The horrors of war and what Andy witnessed are interspersed in italics between Hayley's chapters and provide a ghastly insight to what he witnessed as a soldier.  A compelling story of trust, friendship, and extraordinary love between a daughter and her father.
Realistic Fiction     Christine Massey, JWP Middle School