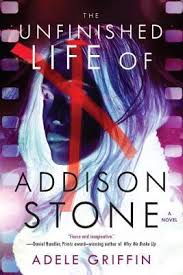 Griffin, Adele. The Unfinished Life of Addison Stone. New York: Soho Teen, 2014. 978-1-61695-360-7. $17.99. 241p. Gr. 9-12.
Even as a young girl, art prodigy Addison Stone amazed her teachers with advanced sketches and captivating drawings.  Her tumultuous home life caused her to hang with her best friend Lucy Lim quite often or sleep in the art room of her high school.  During her junior year, her art teacher and his wife decide to call in some favors, and with the help of a W.W. Sadtler Scholarship, Addison finds herself living in New York, taking art classes and attending exclusive dinner parties and exhibits featuring her work.  Fame and notoriety play havoc on Addy's feeble mental state, though.  Always fearless and impudent, Addy oscillates between extreme happiness and crippling depression.  With the help of doctors and medication, she finds a tenuous balance, but yearns to create her work and live her life without being in a state of medicated murkiness.  Her untimely and horrific death escalates the mystery surrounding this beautiful and talented young individual.
Adele Griffin takes the role of a writer/reporter looking for answers to Addison's unfinished story.  She interviews family members, friends, adversaries and lovers as she searches for answers and the indelicate truth of Addison's life.  Told from the viewpoint of so many characters, the storyline is incredibly fast-paced, and the intensity of the events is elevated, creating a page-turning thriller.
Mystery    Christine Massey, JWP Middle School