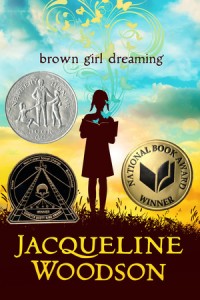 Woodson, Jacqueline. Brown Girl Dreaming. New York: Nancy Paulsen Books, 2014. 978-0-399-25251-8. 336p. Gr. 5 and up.
Woodson beautifully weaves her memories of growing up in Columbus, OH, Greenville (Nicholtown), SC, and New York City, into poems of her youth, family, friends, and ultimately maturation as an African-American born at the height of the Civil Rights movement.  Her use of poetry to tell her story only adds to the memories of Daddy (her maternal grandfather), Dell, Hope, and Roman, her siblings, her mother, and her maternal grandmother.  Each section of this memoir focuses on a different part of her youth, from the geography of moving multiple times, to the impact of being a Witness, to her desire to write and tell stories.  Although each part of her memoir has a distinct focus, they are all intertwined because of Jackie or Jacqueline, depending on the poem and time in her life, and how each memory, event, family member, friend (and sometimes foes) help to shape her character and ultimately her writing.  This is one of the most beautiful memoirs for young people.  Not only do they get to experience Jacqueline Woodson's youth (and the major movements in history during her youth), but they get to experience the beauty of storytelling through poetry, which in itself is an art.  This is a must have addition to any memoir collection.
811; Memoir  Erin Parkinson, Lincoln JSHS, Ellwood City
I got to meet Jacqueline Woodson this past summer at ALA, and she is awesome.  She was very friendly and personable.  Her memoir shares her wonderful character as she grows and matures.  Her story will resonate with students who have single-parents, have moved, have been or are being raised by their grandparents, or who are just trying to figure things out in a confusing world.  Each poem adds to the previous and Woodson's story, but also is a beautiful stand-alone piece.  The individual poems are great examples of using line and form to tell a story and are great examples for creative writing students developing their craft.    Brown Girl Dreaming is a 2015 Newbery Honor Book, National Book Award winner, and Coretta Scott King author award.