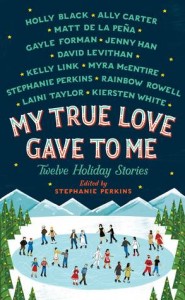 Perkins, Stephanie, ed.  My True Love Gave to Me: Twelve Holiday Stories. New York: St.      Martin's Press, 2014. 978-1-250-05930-7. $18.99.  336 p.  Gr. 9+.
This anthology features short stories that revolve around Christmas, New Year's Eve, and all other folklore, events, and popular figures associated with the winter season.  The stories are written by popular young adult authors, such as Rainbow Rowell, Jenny Han, David Levithan, Matt De La Pena, Holly Black, Kelly Link, Laini Taylor, Gayle Foreman, Kiersten White, Ally Carter, and Stephanie Perkins, who is also the editor.  There is a romance theme to most of the stories, but the depth and emotion that each author packs into the limited number of pages is impressive. There are stories of friends who almost become something more each New Year's Eve, a girl who falls in love with the boy who runs the Christmas tree lot, and a Jewish boy who realizes just how important traditions are as he dresses up like Santa for his boyfriend's little sister.
Holiday Short Stories   Melissa Daugherty, Sharon City Schools
With one or two exceptions, I loved all of the stories in this collection.  It is the perfect book to curl up with a cup of coffee in front of the fire and get excited about Christmas or winter in general.  Each story is unique and enjoyable in its own right.  I especially liked Rainbow Rowell's Midnights, It's a Yuletide Miracle, Charlie Brown by Stephanie Perkins, and The Lady and the Fox by Kelly Link.