Philbrick, Rodman. Zane and the Hurricane. New York: Scholastic, 2014. 978-0-545-34238-4. 181p. $16.99. Gr. 6-8.
Twelve year old Zane Dupree has traveled from New Hampshire to New Orleans (with his beloved dog Bandy in tow) to meet his great-grandmother Grammy for the first time.  Shortly after his arrival, Hurricane Katrina approaches the city.  Under a mandatory evacuation order, Grammy, Zane, and Bandy leave the city with Grammy's pastor, when Bandy leaps from the van when it is stuck in traffic.  In a spur of the moment decision, Zane also jumps out of the vehicle in order to rescue his dog.  Zane chases Bandy the entire way back to Grammy's house in the Lower Ninth Ward.  Boy and dog are in the house when the hurricane strikes.  When the levees break and the neighborhood is flooded, they join up with a pair of fellow flood victims—Mr. Tru, a jazz musician, and his ward, Malvina.  Together, the three (and Bandy) canoe and walk to the Superdome, encountering poisonous snakes, destroyed homes, and dead bodies along the way.  They soon realize that the Superdome will not be a place to get help and they move on, attempting to cross a bridge to Algiers where Tru has family.  Featuring rich characterizations and a realistic depiction of the chaos and tragedy of Hurricane Katrina, this book deserves a place on the library shelf.
Realistic     Elizabeth Henry, Lampeter-Strasburg HS/MS
Perkins, Stephanie. Isla and the Happily Ever After. New York: Dutton, 2014. 978-0-525-42563-2. 339p. $17.99. Gr. 9 and up.
Isla is entering her senior year at the School of America in Paris.  She's had a crush on her classmate Josh since her freshman year at the school but has never really been able to work up the nerve to have a real conversation with him.  A chance meeting in their hometown of New York City over summer break leads to a connection between the two teens that blossoms into friendship, then romance, upon their return to school.  Things are going well until Josh gets expelled from school and sent back to America.  This naturally puts a great deal of strain on their relationship, and Isla soon begins to feel doubts.  Will their relationship be able to survive?
Realistic   Elizabeth Henry, Lampeter-Strasburg HS/MS
Isla and the Happily Ever After concludes the trilogy Perkins began with Anna and the French Kiss and Lola and the Boy Next Door.  While it is not necessary to have read the prior two books in order to appreciate Isla and the Happily Ever After, readers of the prior books will enjoy the presence of some familiar (and favorite) characters.  A cut above the average romance, Perkins' books feature well-developed rich characterizations and depth in the romantic storyline.  (Sure, most readers know going in that Isla is likely to reconcile with Josh at the conclusion of the story, but it's how Perkins gets to that point in the story that makes this a recommended read).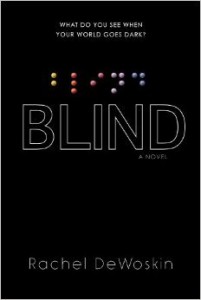 DeWoskin, Rachel. Blind. New York:  Viking Juvenile, 2014.  978-0670785223. 416p. $17.99. Gr. 9-12.
Emma is at a fireworks display with her father when her world is turned upside down.  A piece of fireworks hits her directly in her eyes blinding her instantly. What follows is the step by step process of Emma's recovery and eventual return to her high school. Emma's very large family and her one close friend all adjust to Emma's new normal. While Emma is beginning her recovery, a childhood friend drowns in a nearby lake, in what may be a suicide, shocking all of the local teens who grew up with her.  What would make her do such a thing?  While at times Emma herself has wished that she were dead, she understands that what Claire did affects them all and starts a group to talk about it to help everyone sort out their feelings including her own.
This book is an amazing look at what it would be like to be suddenly blinded. The author goes through all the necessary and practical steps that help Emma become more independent. Told in first person, it is easy to get into Emma's mind as she now has to relearn how to live and function in her now dark world.
Realistic Fiction      Marian Kohan, Erie School District