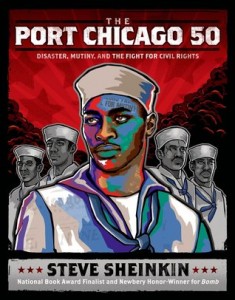 Sheinkin, Steve.  The Port Chicago 50: Disaster, Mutiny, and the Fight for Civil Rights.  New York: Roaring Brook Press, 2014.  978-1-59643-796-8.  200 p.  $19.99.  Gr. 7 and up.
During World War II, Port Chicago was a segregated naval base where black sailors loaded bombs and ammunition onto ships.  Having received no training on the proper handling of explosives, the sailors knew they were doing dangerous, albeit necessary, work.  Then, one fateful day in July of 1944, a massive explosion killed 320 servicemen and injured many more.  Shortly thereafter, in August of 1944, the remaining black servicemen were ordered to return to work loading bombs and ammunition at a new location.  Fifty of these men refused to return to this dangerous work unless working conditions were improved.  These fifty were charged with mutiny, threatened with death by firing squad, and brought to trial in a court-martial.  Fighting not only for their innocence, but also against the racial inequality that was prevalent in the U.S. military during WWII, these brave men helped to change policies and attitudes pertaining to African American servicemen.  Incorporating photographs, primary source reproductions, direct quotes from the sailors themselves, and the involvement of well-known civil rights activists like Eleanor Roosevelt and Thurgood Marshall, this book tells the story of 50 unsung heroes of the civil rights movement.
940.54; World War II                                                              Julie Ritter, Montoursville Area High School
The author seems to have really done his research for this book.  He interviewed several of the sailors who were at Port Chicago when the explosion occurred, and his incorporation of their quotes makes the story come alive.  It reads almost like a fiction novel.  The book is an excellent addition to both World War II and civil rights collections.  I could see it being used in a social studies classroom to spark discussion on either of these topics.  Perhaps students could even set up a mock court-martial as they explore the rights of black sailors during WWII from both the white and black man's perspective.