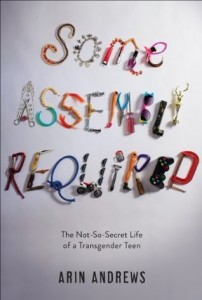 Andrews, Arin with Joshua Lyon. Some Assembly Required. New York: Simon & Schuster, 2014. 978-1-4814-1675-7. 248p. $17.99. Gr. 9 and up.
In this easy to read memoir, Arin, a female-born, transgender teen, details his journey thus far.   Growing up, Arin always considered himself more of a tomboy and resisted his mother's attempts to get him to wear dresses or compete in beauty pageants.  At first, Arin thinks he might be gay, and has his first romantic relationship with a girl in his dance class.  As he explores online the notions of gender and sexuality, Arin comes to the realization that he is transgender.  As with many LGBT youth, Arin struggles with peer bullying, depression and thoughts of suicide (all of which he openly recounts).  While his mother is initially upset and resistant, after a period of time, she supports her son.  Also key to strengthening their relationship during this time are regular appointments with a therapist and attending LGBT support group meetings.  Arin is very open in the memoir about his transition process and addresses issues such a surgical options and testosterone shots.  An appendix at the end includes resources ranging from books, movies and websites.
921; Biography       Elizabeth Henry, Lampeter-Strasburg HS/MS
Sutcliffe, Jane. The White House is Burning: August 24, 1814. Watertown, MA: Charlesbridge, 2014. 978-1-58089-656-6. 120p. $19.99. Gr. 5-8.
Through the use of numerous primary source accounts, Sutcliffe re-creates a notorious date in American history—August 24, 1814.  It was on this date during the War of 1812 that British troops invaded Washington, D.C. after defeating American troops outside of town.  Finding the nation's capital abandoned by the government (and many citizens), the British burned several government buildings, including the Capitol and the White House.  Sutcliffe takes readers nearly hour by hour through the day, introducing the prominent players on both sides and explaining military tactics of the time.  Firsthand accounts from a cross-section of Washingtonians (from First Lady Dolley Madison, to businessmen, a female young tourist, and slaves) help to make the story come alive and show how the invasion impacted all in the capital city.  The text is supplemented by numerous illustrations, paintings and maps.  A nice addition for American history research or for casual reader with an interest in history.
974; History  Elizabeth Henry, Lampeter-Strasburg HS/MS
Walker, Sally M. Boundaries: How the Mason-Dixon Line settled a family feud & divided a nation. Sommerville, MA: Candlewick, 2014. 978-0-7636-5612-6. 202p. $24.99. Gr. 8 and up.
While most tend to associate the Mason-Dixon Line with the Civil War era and the separation of North and South, its history actually extends back to the earliest days of colonial America.  In this comprehensive history, Walker first introduces readers to the Calvert (Maryland) and Penn (Pennsylvania) families, who were granted charters to start colonies in the New World.  Due to conflicting language in their land grants, boundary disputes soon arose between the two colonies.  In an effort to settle the matter, two astronomers, Charles Mason and Jeremiah Dixon, were hired to conduct a land survey.  The majority of Boundaries describes the arduous surveying task undertaken by the Mason and Dixon.  They not only had to conduct astronomical observations using the tools available at the time, they had to perform complex mathematical computations, and supervise a large crew of men who assisted them, blazed trails and set markers to mark the boundary.  Walker presents and explains the astronomical concepts and mathematical methods used by the two men during the survey process.  The book concludes with a look at the Line's role in the pre-Civil War era as slaves crossed the line northward into freedom, perused by their owners or slave catchers.  The text incorporates numerous primary source accounts as well as pictures, maps, drawings and diagrams.
974; History                                                   Elizabeth Henry, Lampeter-Strasburg HS/MS
As a native Pennsylvanian (and history buff), I found this an intriguing read.  Walker not only presented historical information regarding colonial politics and the need for the Mason-Dixon Line, she also did an admirable job of explaining the surveying process and the mathematics behind it (not easy concepts to make understandable to a layperson!).  If you don't live far from the Mason-Dixon Line, this book might just inspire you to check it out.  I was able to locate a Line marker only 20 miles from my home.  A recommended purchase for schools not only near the Mason-Dixon Line, but schools that have a strong curriculum in Pennsylvania history.