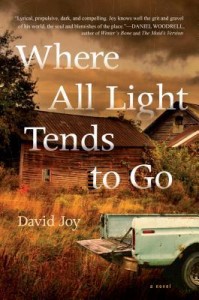 Joy, David. Where All Light Tends to Go. New York: G.P. Putnam's Sons, 2015. 978-0-399-17277-9. 260 p. $26.95. Gr. 11 and up.
Mature young adult readers who enjoyed the 2011 movie, Winter's Bones, and/or Laura McHugh's recent novel, The Weight of Blood (Spiegel & Grau, 2014), will snap up David Joy's outstanding debut, Where All Light Tends to Go.  In rural North Carolina, high school dropout Jacob McNeeley struggles with whether he can escape the long shadow of his meth-dealing father.  "He was a horrible man and no one knew that more than me," Jacob reflects, "but he was my father nonetheless." Though he longs to escape the lawless McNeeley legacy, he's pulled into a series of life-altering criminal acts. Reconnecting with Maggie, his college-bound childhood sweetheart, fuels Jacob's desire to escape, but he may already be too deeply enmeshed in his father's empire to break free. Joy depicts this violent, profane, unforgiving world in such a way that the reader won't be able to look away. Themes of coming-of-age, first love, and the roots tying Jacob to his hometown make this an excellent crossover selection.
Realistic            Amy V. Pickett, Ridley High School
I think this novel is a strong contender for a 2016 Alex Award! Please note, though, that because of the language and violence I would only consider booktalking this title with juniors and seniors.