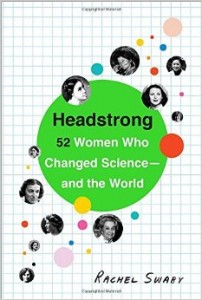 Swaby, Rachel. Headstrong: 52 Women Who Changed Science – and the World. New York: Broadway Books, 2015. 978-0-06-222410-1. 273 p. $16.00. Gr. 9 and up.
The story behind Headstrong: 52 Women Who Changed Science — And the World by Rachel Swaby almost sounds like fiction. In 2013, an obituary for award-winning rocket scientist Yvonne Brill opened with this now-infamous line: "She made a mean beef stroganoff." While that may be true, is it really the most fitting way to memorialize a woman who was honored with the 2011 National Medal of Technology and Innovation? Now, thanks to Swaby's wonderful new book, we will all know a little more about the many women (52, to be exact) who have impacted the fields of science, technology, engineering, and math. Swaby has included women whose stories combine the "twin pillars" of achievement and narrative – there's a great story embedded within each profile. She also opted to cover only scientists whose life's work has been completed (in other words, these women are no longer with us). There's a 3-5 page profile of each woman, contextualizing her work in her field with world events of the time; for example, many Jewish scientists fled Germany during the 1930s to pursue research positions elsewhere. Some of the names are familiar, such as Rachel Carson, Sally Ride, Florence Nightingale, and Hedy Lamarr. Though the names of others may be lesser known, the scientific ripples of their discoveries are fascinating to read about.
509.2; Science, Biography    Amy V. Pickett, Ridley High School
I immediately had Headstrong pegged as a worthwhile read, but Swaby's spirited writing style was a pleasant surprise. I found myself reaching for this book again and again instead of picking up one of the many novels on my to-be-read list!