Ruurs, Margriet. Families Around the World. Tonawanda, NY: Kids Can Press, 2014. 978-1-894786-57-7. 40 p. $18.95. Gr. K-3.
Margriet Ruurs created a beautiful, diverse introduction to different families around the world. Ruurs interviewed real families in different countries and based each two-page spread on her interviews. She features families such as a large nomadic family in the Gobi Desert of Mongolia, in which young son Baatar spends his days tending to the family's animals and doing chores to help with daily survival; a two-mother family who lives in Amsterdam and spends the weekend together at local sites and visiting an elderly grandmother; an American family that owns a cattle ranch on which son Ryan helps raise a sheep that he will show at a fair; a Chinese family that has moved to Canada and speaks Mardarin at home but English with friends and eats lasagna with chopsticks.  Ruurs included families with single parents, same-sex parents, extended families, biracial families, family members with handicaps, and families that live on five of the seven continents (no Australia or Antarctica). The book includes a map with highlighted countries, a note for parents and teachers, and a glossary with words from other languages that are featured in the text.
This book would serve as a lovely introduction to foreign cultures, different kinds of families, or different lives of children around the world. I think that kids would love to know that the children featured in the book are real children. Jessica Rae Gordon's colorful illustrations showcase not only the families but different cultural features such as the red double-decker bus in England and the beet soup and pierogies for Sunday dinner in Poland. Introduce this book to teachers who could use it in their classrooms for curriculum connections.
Nonfiction; 306.85           Lindsey Long, Nye & Conewago Elementary Schools
Schecter, Vicky Alvear. Illustrated by J.E. Larson.  Hades Speaks!: Secrets of the Ancient Gods. Honesdale, Pennsylvania: Boyds Mill Press, 2014. 978-1-620915981. 128 p. $14.46. Gr. 3-7.
Learn more about mythology by taking an underworld from a tour from Hades, the  original "He Who Must Not be Named."  While Hades was the first born, he frequently discusses the unfairness in the realms and temples his siblings, mainly Zeus, possess. Persephone, the wife of Hades, shares several stories of previous human visitors to the Underworld during the stay at the Black Palace. In addition to learning about mythology, the culture of funeral rites and famous Greek thinkers are introduced.  At the end of the book readers can consult a guide to the Greek Gods and Heroes, a glossary of terms, sources and an index.  Hades Speaks! is ideal for readers that enjoy mythology infused series or learning more about topics covered in World History class.
292.1 Nonfiction, Mythology, History             Beth McGuire, Wendover Middle School
 Clay, Kathryn. Robots in Space. Mankato, Minnesota: Capstone Press, 2015.  978-1-4914-0585-7. $24.65. Gr. K-3.
This book begins by introducing readers to why we use robots to explore space. Readers learn that humans often use robots to learn about dangerous places that people might not be able to visit. Readers learn about a robot that sends information from the sun, one that has taken pictures of Neptune and deep, dark places in the solar system, and a rover that landed on Mars. The last few pages even explore the future of space robotics, including spider-bots and a humanlike robot that may someday travel to Mars or the Moon! The text in this book is somewhat sparse, however the simplistic information provided will be just enough for the target audience of young readers. Other titles in the Cool Robots series include Animal Robots, Robots on the Job, and Tiny Robots. Anyone interested in science, space, or robots will be an instant fan of this book, and likely the others in the series as well.
629.43 Space, Robotics        Lisa Naylor, Concord Elementary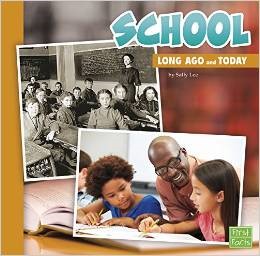 Lee, Sally. School Long Ago and Today. Mankato, Minnesota: Capstone Press, 2015.  978-1-4914-0296-2. $24.65. Gr. K-3.​
Many students in today's world are used to a certain way of learning in the classroom. Research projects using computers of all shapes and sizes, interactive technology, an ample student body, and a diverse staff to teach many different subject areas are all the norm. However, the education system in our country was not always so vibrant and modern. This book does a great job of providing a simple, brief timeline of the ways schools have evolved from the 1900s to present day, focusing on major points to keep the audience of young readers engaged. Included on each easy-to-read page are photographs, glossary words, and extra fact boxes. I particularly love the addition of the "Amazing but True" and "Hands On" pages in the back of the book. The hands on activity provides directions for creating a hornbook, which is what colonial children used to help them with their reading and writing. Other titles in the Long Ago and Today series include Communication, Food, and Transportation.
370.973 Education History, Schools                  Lisa Naylor, Concord Elementary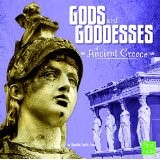 Smith-Llera, Danielle-. Gods and Goddesses of Ancient Greece (First Facts series).  9781491402740. N. Mankato, MN: Capstone, 2015.  24p. $18.49. NF Gr 2-6.
This is a beautifully organized and illustrated primer to Greek Mythology. Beginning with a map of ancient Greece showing the location of Temples for the Gods, the book tells the story of all the major characters on Mt. Olympus. Then each god from Zeus to Apollo has a spread telling their individual tale in simple, easy-to-read format with luscious photography, illustrations, and lots of sidebars for enticing nonfiction read. I'd recommend this book as a pleasure read and also as a classroom resource when teaching mythology to the younger grades. Features at the end include a family tree of the gods, glossary, index, sources for further reading and Common Core critical thinking prompts.
753 Mythology              Kathie Jackson, Plymouth Meeting Friends School
Capek, Michael. Secrets of the Terracotta Army: Tomb of an Ancient Chinese Emperor (Edge Books series).  9781476599175. N. Mankato, MN: Capstone, 2015.  24p. $18.49. NF Gr 3-8.
I've long been curious about the Terracotta Army in China. Was it a statue factory? A temple? An artist's lair? Turns out these thousands of terracotta soldier statues inhabit the tomb of China's first emperor who lived over 2,000 years ago. In the spirit of the Egyptian pharaohs, he wanted to go into the hereafter with all the comforts, companionship and protection he enjoyed in this world.  So far archaeologists have mapped that this tomb covers at least a 30-sq. mile area, and new discoveries are continuing to be made. This book does an excellent job of showing the artifacts, telling the historical backstory, and detailing the current archaeological science going on.  While composed in a short and easy to read format,  your older students will not find the content too young.  Fascinating! End features include glossary, index, print and online resources for further reading, and Common Core critical thinking prompts. Highly recommended.
931 China History Kathie Jackson, Plymouth Meeting Friends School