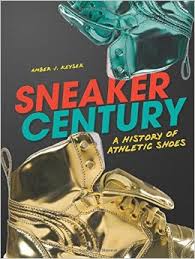 Keyser, Amber J.  Sneaker Century: A History of Athletic Shoes.  Minneapolis, MN: Twenty-First Century Books, 2015.  978-1-4677-2640-5. 64p.  $32.75.  Gr. 6-9.
Sneaker Century takes an in-depth look at everyone's favorite footwear.  Whether you call them sneakers, tennies, or trainers, athletic footwear is a staple of American fashion.  Sneaker-type footwear, shoes that wrap around the foot, have been around many thousands of years.  The modern sneaker came to be in the late 19th century with Charles Goodyear's perfection of a process for vulcanizing rubber.  Goodyear was not an astute businessman and after his death, companies began to profit by making shoes with rubber soles and lightweight cloth or leather uppers.  Some of the earliest brands (Keds, Converse, and PF Flyers) exist to this day.
If this was simply a book about the history of sneakers, it wouldn't be anything remarkable.  However, the book discusses a number of fascinating sneaker-related topics.  The World War II intrigue behind the shoe company run by Adi and Rudolf Dassler is intriguing.  Unlike his brother, Rudolf, Adi Dassler did not support Hitler's politics (and supplied Jesse Owens with a pair of spikes that he thought would improve Owens' race).  Deep philosophical differences led the Dassler brothers to establish their own shoe companies after the war: Adi founded the Adidas Company, while Rudolf incorporated Puma shoes.  Sneakers are a multi-million dollar industry, so it stands to reason that controversies would abound. Today, highly-paid celebrity endorsers, the marketing of expensive sneakers to inner-city youth, and the exploitation of overseas factory workers, are all points of contention that affect the athletic footwear industry.
At a mere 64 pages, this book is too short to do justice to many of the very interesting topics it discusses.  However, its length makes it highly accessible to reluctant readers.  It has beautiful photographs of (functional and fashionable) sneakers, professional athletes, and design diagrams.  The graphics are arresting and the text is easy to understand.  Students who wish to learn more can consult the bibliography or the links included in the "For Further Information" section of the book.  There's nothing quite as exciting as a new pair of "kicks", and Amber Keyser has captured this feeling in Sneaker Century.
685.31 Shoes; Social Aspects            Susan Fox, Washington Jr. /Sr. High School