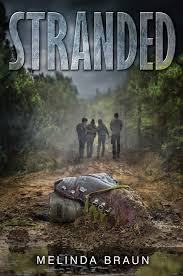 Braun, Melinda. Stranded. New York: Simon & Schuster, 2015. 978-1-48-14-3819-3. 272 p. $17.99. Gr. 9 and up.
After the tragic death of her sister, Emma decides she needs a change. On a whim, she signs up for a week-long outdoor adventure in the wilds of Minnesota. She expects to deal with the usual challenges of camping, but what she doesn't expect is a freak storm that leaves her and three other teenagers fighting for their very survival. Without food or water, the teens must rely on each other to stay alive. Oh, and did I mention that a winter storm is on the horizon?
This is an action-packed adventure that will keep students glued to the pages of the book. Themes of survival, friendship, and death lend themselves well to discussion. However, the strong language and sexual situations make this a book that should be presented to high school students only.
Action/Adventure (Survival)    Corey Hall, Elizabethtown HS/MS