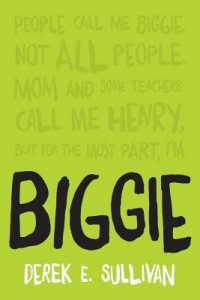 Sullivan, Derek E. Biggie. Chicago: Albert Whitman, 2015. 978-0-8075-0727-8. 266p. $16.99. Gr. 7 and up.
"People call me Biggie. Not all people.  Mom and some teachers call me Henry, but for the most part, I'm Biggie."  Biggie has tried as hard as he can to avoid sports and focus on getting straight As, but it's not easy when the dad you've never met was the town baseball legend.  Of course, it takes a girl he likes, Annabelle, to get Biggie to try baseball and get in shape.  It turns out Biggie is a good pitcher, but will he be able to: make friends? get a date? impress his step father? make the team?
Realistic Fiction       Rachel Gutzler, Wilson High School
I found myself really liking and cheering for Biggie, even though he didn't always make the best decisions.  His character was very believable as an underdog, bullied kid, and just as a high school boy.  I found myself cringing when Biggie admitted to hacking into Annabelle's computer to read her emails, and I was so angry at him for quitting the baseball team because he wasn't selected as a starting pitcher, but the story went in a great direction.  He had hard lessons to learn, and there isn't always a perfect answer to problems like being abandoned by your birth father or being bullied throughout school.  This book would appeal to a variety of students, and I could see it especially appealing to some of our reluctant boy readers.
Sullivan, Derek. Biggie. Chicago: Albert Whitman & Co., 2015. 978-0807507278. 266p. $16.99. Gr. 9 and up.
Bullied by his peers and nicknamed "Biggie", Henry is the 300 lb son of a baseball legend. A straight A student, he makes himself invisible at school but has a rich social life online where he chats with girls.  He has had a crush on Annabelle, the popular girl at school, for years. It is not until he is forced to attend the gym classes he's been cleverly avoiding that he pitches a perfect whiffle ball game and sees he may have potential after all. He decides to lose weight and pursue Annabelle.  THOUGHTS: The characters are believable, realistic, edgy and sometimes unpleasant. They will stick with you even after you finish the book. This is recommended for high school students due to language.  
Realistic Fiction    Robin Bartley, William Tennent High School