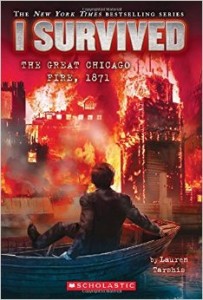 Tarshis, Lauren. I Survived The Great Chicago Fire, 1871. New York: Scholastic, 2015. ISBN 978-0-545-65846-1. 96pp. $4.99. Grades 3–5.
Eleven-year-old Oscar never wanted to leave his family's Minnesota farm and move to the bustling city of Chicago. But after Papa dies and Mama remarries, Oscar finds himself on a train with his father's star-shaped sheriff's badge as the only reminder of his former home and life. Oscar's first night in Chicago proves to be a terrifying one when his suitcase is stolen, he is separated from his mother and step-father, and he finds himself in the middle of an enormous, out-of-control fire. All alone in an unfamiliar city, Oscar relies on the help of two orphaned street-children to navigate the city's burning sidewalks and alleys and ultimately reunite with his family. Lauren Tarshis's fast-paced storytelling places Oscar in the center of one of the country's most famous and deadly fires. Oscar faces danger on every street corner, and readers will be glued to the pages as he tried to outrun the wide-spread flames and escape the burning city.
Historical Fiction (post-Civil War).               Anne Bozievich, Friendship Elementary School
Titles in the I Survived  series are always popular with my students – fourth and fifth grade boys in particular. This book is no exception, as it flew off the shelves at our school's spring book fair. I purchased several copies for the library, and they were in constant circulation until the end of the school year. The book's cliffhanger chapter endings, fast-paced storyline, and realistic characters combine to create gripping historical fiction, and the 'Question and Answer' section at the back of the book answers some of students' questions about how the fire started, how many people lost their lives, and why the fire department couldn't do more to fight the flames.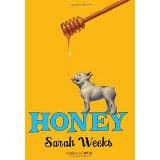 Weeks, Sarah. Honey. New York: Scholastic, 2015. ISBN 978-0-545-46557-1. 152pp. $16.99. Grades 3–6.
Ten-year-old Melody and her widower father have always been extremely close. So Melody is shocked when she overhears part of a phone conversation where he calls someone "Honey." Melody and her best friend, Nick, are determined to uncover the mystery woman's identity, and information from Melody's annoying six-year-old neighbor, Teeny, leads them to Royal, Indiana's newest beauty salon: The Bee Hive. The point-of-view shifts several times throughout this story, and at the Bee Hive, readers hear from its proprietor, Bee-Bee Churchill and from her small dog, Mo. Each character's separate storyline ultimately connects, leading to a satisfying, if predictable, conclusion. This title will appeal to middle-grade students who enjoyed Weeks's previous stories, including Pie, as well as realistic fiction and animal fiction titles.
Realistic Fiction    Anne Bozievich, Friendship Elementary School
I added this title to my collection in late spring, and for the rest of the year, it was popular with my fifth and sixth grade girls. Sarah Weeks' Pie (2011) remains popular with my fourth, fifth, and sixth grade girls, so I was not surprised when they gravitated towards this book as well. To me, this book is appealing because of its timeless feel. It focuses on life in a small town, and the main characters are trying to get to the bottom of a realistic mystery: who is "Honey?"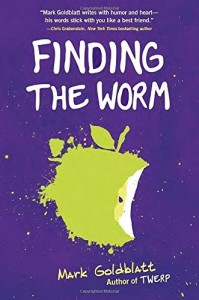 Goldblatt, Mark. Finding the Worm.  (Sequel to Twerp).  New York: Random House, 2015. 978-0385391085. 344p. $14. Gr. 4-7.
Julian and the Ponzini gang are now in 7th grade. Julian, who is preparing for his bar mitzvah and has a crush on Bev, faces accusations of vandalism by the principal, while Quentin has been diagnosed with cancer. A balance of humor and sentiment describe the difficult struggle of a boy who is becoming a man. Themes of fairness, faith and friendship emerge as the reader laughs and cries along with Goldblatt's richly developed characters. This book is a perfect companion to his first novel, Twerp, but is strong enough to stand by itself.
Realistic Fiction   Robin Bartley, Davis Elementary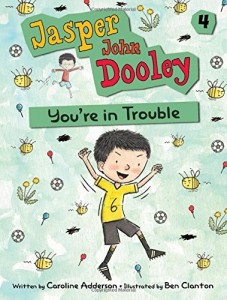 Adderson, Caroline.  You're in Trouble. (Book 4, Jasper John Dooley Series). 978-1554538089. Toronto: Kids Can Press, 2015. 122p. $13. Gr. 2-4.
Jasper goes to the vending machine for juice after soccer practice but instead of juice, a Torpedo energy drink falls out. Jasper knows he shouldn't drink it but finds the ice cold can feels so good he decides to take just one sip. That sip is sweet and leads to another. Jasper is hiding the drink in the refrigerator and sneaking sips over the next day. His sudden high energy gets him into trouble and is very addictive. He tries to stop himself and cover up his mistakes, which just makes matters worse. This is a perfect series for emerging readers containing valuable lessons about consequences and making good choices.
Realistic Fiction   Robin Bartley, Davis Elementary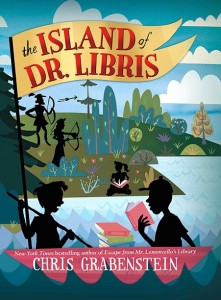 Grabenstein, Chris. The Island of Dr. Libris. 9780385388443. Random House Children's Books: New York. 2015. 8-12 years old. $16.99.
Billy has a 'magical mind', in the sense that he is able to think stories to life. Upon moving to a cottage with his mother for the summer, Billy discovers that the books and the island in the middle of the lake are quiet amazing. With the help of his friends Walter, Robin Hood, The Three Musketeers, and a few other story favorites, they work together to fight evil by intertwining stories from the library of Dr. Libris. Billy and Walter also learn that all of this is possible due to a scientific scheme Dr. Libris has put into place on the island to make money. Students of all ages will enjoy this book for it's' adventure as well as other true to life situations such as bullying and family problems.
Magic/Fantasy/Realistic Fiction      Krista Goodzinski/Mars Centennial
Look, Lenore. Alvin Ho: Allergic to the Great Wall, The Forbidden Palace, and Other Tourist Attractions (Alvin Ho series). 978-0385369725.  New York: Random House, 2014.  $15.99. 176p.  Gr. 2-4.
Lenore Look is back with this 6th installment in the Alvin Ho series, however readers who haven't caught up can jump right in and start with this book. I'm betting they'll love it and circle back to read the others! The author provides a paragraph at the beginning of the book explaining that she spent over a month traveling around China to research and get the details just right. Alvin Ho is a Chinese American kid with more than a few neuroses, and as a result has taken to carrying a PDK – personal disaster kit – everywhere. Well now his parents have decided to take the whole Ho clan, Alvin and his 3 siblings, on a takes-forever-to-get-there 16-hour plane ride, in a tin can of a plane!, to Beijing to visit the grandparents.  Yikes! Don't even get Alvin started on all the things that could go wrong. Illustrated everywhere a la the Wimpy Kid series, this book is a hilarious and relatable multicultural read for lower level readers and other grade schoolers just reading for fun.
Fiction/Humor   Kathie Jackson, Plymouth Meeting Friends School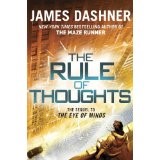 Dashner, James. The Rule of Thoughts (Mortality Doctrine, book 2). 978-0385741415. New York: Random House, 2014.  $18.99. XXp.  Gr. 6+
Fans of the Divergent series by Veronica Roth, The Hunger Games, the Matrix movies, and The Maze Runner series by this author, will enjoy Dashner's new Mortality Doctrine series. Reminiscent of The Matrix, Dashner's latest series is set in a world of futuristic technology, cyber spying and threats and a web of gaming turned bad. The protagonist Michael is an extremely talented gamer who spends more of his life in the VirtNet than in the real world. The addictive VirtNet allows gamers complete mind and body experience and allows anyone with enough money to create and inhabit a complete risk-free fantasy world. In the first book, The Eye of Minds, one gamer, Kaine, goes too far and holds hostages inside the VirtNet, killing their minds. No one knows why this is happening. The government recruits Michael to "go off the grid," deep into the VirtNet to hack his way in, untangle the mystery, and prevent further loss of life.  In this second book, Michael completed his mission and will never be the same as a result of what he's experienced and learned, and in fact he almost did not survive.  It turns out Kaine is not a person but a computer game gone rogue to the point of becoming a sentient being.  Kaine's goal, The Mortality Doctrine, will turn all humans on earth into robots for Kaine's purposes.  It's a fast-paced techno-thriller filled with high tech fantasy, lots of futuristic plot twists and turns to keep the story moving. My reluctant reader 6th grade students have been gobbling up this series so far!
FICTION/FANTASY   Kathie Jackson, Plymouth Meeting Friends School
Eastman, P.D., Aaron is a Good Sport. New York: Random House, 2015.978-0-553-50842-0. 32p. $3.99. Grades PK-1.
Eastman, P.D., Aaron has a Lazy Day New York: Random House, 2015. 978-0-553-50844-4. 32 p. $3.99. Grades PK-1.
Aaron is a loveable alligator who always seems to be in trouble. From his adventures with roller skates, to planting a garden, he always seems to find himself in a challenging situation! This enthusiastic alligator from the author of the beloved "Go Dog, Go", P.D. Eastman, is another irresistible character for first time readers to relate to. With simple vocabulary and pictures that coincide with the action and words, early readers will find success and maybe some fun along the way. There are two books in this series so far, and both will offer the early reader a great way gain confidence with their reading skills!
Easy Reader/Fiction  Donna Fernandez, Calvary Christian Academy
Weatherford, Carole Boston, Gordon Parks; How the Photographer Captured Black and White America. Chicago: Albert Whitman & Company, 2015. 978-0-8075-3017-7. 32 p. $16.99. Grades 1-4.
Gordon Parks was the youngest of fifteen children born on the prairies of the Midwest. His white teacher informed her black students that they would grow up to be waiters and porters. But Gordon doesn't want to do those jobs. When Gordon's mother dies, Gordon moves north to Minnesota to live with his sister. While there, he buys a used camera and his life is changed forever. After receiving recognition for his black and white photos, Parks takes a job in Washington, D.C. In Washington, he sees the ugly face of segregation and begins to photograph the plight of the African-American community. His photos gain national attention and he is hired as Life magazine's first black staff writer and photographer. Later, Parks writes books, poetry and eventually becomes the first African-American to write and direct a feature film. This inspiring story of a young man who follows his dreams and uses his talents to draw attention to the inequality of life for people of color is a wonderful addition to a biography or non-fiction
collection. This simple story includes easy to read text and an informative section in the back with some examples of Gordon Park's most famous photographs.
Nonfiction   Donna Fernandez, Calvary Christian Academy
Manushkin,Fran. Katie Woo: Katie and the Fancy Substitute. Mankato, Minnesota: Picture Window Books, 2015. 978-1-4795-5188-0. $19.99. Gr. K-2.
In Katie and the Fancy Substitute, Katie's teacher Miss Winkle is sick and Miss Bliss takes her place as the substitute for the day. Katie immediately notices how fancy Miss Bliss is, with her sparkly shoes and jewelry. Katie is enthralled by Miss Bliss and spends most of the day trying to get her attention and impress her. While Miss Bliss is trying to be fair and give all of the students equal amounts of attention, Katie mistakenly believes that the fancy substitute teacher must not like her. When Katie finally gets a chance to help Miss Bliss, she spills the materials that she was instructed to pass out and feels very embarrassed. As the story comes to a close, Katie eventually helps Miss Bliss and the rest of her class in a big way by finding the class pet, Binky, who accidentally got out of his cage. Miss Bliss provides Katie with the attention she has wanted throughout the whole story, complimenting her helpful and cheerful behavior.
This story, similar to others in the Katie Woo series, includes discussion questions, writing prompts, and related activities in the back of the book. Readers will have the opportunity to consider topics based on friendship, how to treat others, and best ways to be helpful. This is a great beginner chapter book with large, easy-to-read font, colorful illustrations, and a glossary for extra guidance.
Juvenile Fiction              Lisa Naylor, Concord Elementary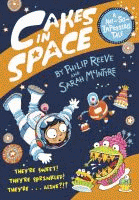 Reeve, Philip and Sarah McIntiyre. Cakes in Space: A Not-So-Impossible Tale. New York, NY: Random House, 2015. 9780385387927. 211 p. $12.99. Gr 1-4.
This tasty book will have you thinking twice about venturing into space or eating cakes! The well written adventure takes Astra and her family on a long space journey to Nova Mundi, and has some well thought out space travel technology to get them there. The problem begins when Astra makes one seemingly harmless request for a piece of cake before hibernation. When she wakes up earlier than she should, she must battle killer cakes, a group of pirating aliens, and a Nameless Horror to save the entire ship from doom. This clever tale will appeal to creative sci-fi fans and strong young readers, though they may never look at a cupcake the same way again!
Fiction; Science Fiction   Dustin Brackbill, State College Area School District
Wallace, Rich. The Room of Woe (UP2U Adventures series). Minneapolis, MN: ABDO Publishing, 2015. 978-1-62402-094-0. 80 p. $27.00. Gr. 2-4.
Woe to the child who makes friends or enemies with this ghost! Max is on a visit with his parents to see Aunt Ida, who lives alone after a terrible accident with her son years ago. But it seems that Worthington, Woe for short, is still very present and in the mood to play, whether Max is ready or not. When Max gets lost in the woods at night, we are brought into the story to decide his fate and how to handle Woe. Unlike a choose your own adventure, the reader must wait until the climax and then weigh all sides to decide upon three possible endings. It's worth reading all three of course, and then the writer even encourages us to write our own ending. This is a nice twist for younger readers who want a digestible ghost story to keep them up at night!
Fiction; Horror       Dustin Brackbill, State College Area School District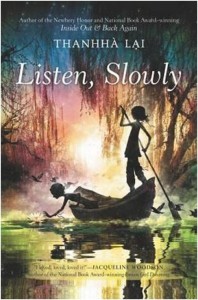 Lai, Thanhha. Listen, Slowly. Harper Collins: New York. 2015. 9780062229182. $16.99. 260p. Gr. 6-8.
Mai is about to take the trip of her life. At first, she doesn't realize the impact it will make because she is too concerned about what she will be missing during her summer break. She eventually learns that family, culture, and the past will be more important than any time spent at the beach. Mai, only 12 years of age, will be spending her summer with her grandmother, Bà, in Vietnam. Bà seems to think that a detective can help her learn whether or not her husband survived the war. Through the help of the detective, the 'guard' in charge of Bà's husband was located and may be the only person able to provide any information. Mai is anxious to go home and resume her summer, but learns that it's ok to slow down, listen, and enjoy the new friends and unique relationship she has with her grandmother. This is a great read for advanced readers, more towards the 7th and 8th grade levels.
Historical/Realistic Fiction           Krista Goodzinski/Mars Centennial
Edwards, Karl Newsom. Fly! New York: Alfred A. Knopf, 2015. 978-0-385-39283-9. 26 p. $15.99. Gr. PreK-1.
Fly is a loveable but confused little guy. His friends all know how to move in just the right way for them—the worm can wiggle, the cricket can jump, and so on. Unfortunately, Fly hasn't quite figured out his own movement yet. With the help of some friends he tries out several ways that don't quite fit until he starts to work those wings and "fly!"

Edwards' Fly! Is a simple but winning story that is perfect for preschoolers, and possibly kindergarteners, who are trying to learn something new.  Sometimes it takes a few tries to get something right! The illustrations are bright and fun with lots of white space, giving them a fresh feeling. Included in the back are bug facts that showcase each bug friend of Fly and how these critters move.
Easy Fiction                                         Lindsey Long, Nye & Conewago Elementary Schools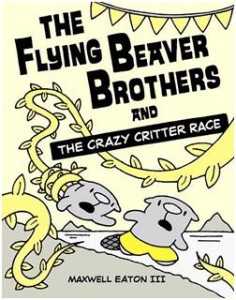 Eaton III, Maxwell. The Flying Beaver Brothers and the Crazy Critter Race. New York: Alfred A. Knopf, 2015. 978-0-385-75469-9. unpaged. $6.99. Gr. K-4.
Beaver brothers Ace and Bub are back again, this time in a crazy critter race. Crazy Critter, houseboat salesman, is holding a race to replant trees that were destroyed by baboons (The Flying Beaver Brothers and the Hot-Air Baboons). The winner gets a new houseboat! The Flying Beaver Brothers are excited to start until they notice that the "trees" aren't exactly trees and something seems fishy with Crazy Critter. Ace and Bub will need to save the day before the islands are taken over by crazy, giant vines!
As always, Eaton combines black, white, and gray illustrations with one bright color—in this case, yellow. This book is another winner for fans of the wacky brothers who always seem to find themselves involved in strange situations that require quick thinking and lots of humor.
741.5; Graphic Novel                  Lindsey Long, Nye & Conewago Elementary Schools