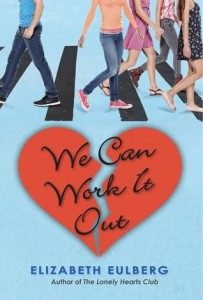 Eulberg, Elizabeth. We Can Work It Out. New York: Point, 2015. 978-0-545-65461-6. $17.99. 307p. Gr. 7 and up.
We Can Work It Out picks up where The Lonely Hearts Club (2010) left off.  Penny Lane Bloom, founder of the Lonely Hearts Club, has a boyfriend, Ryan Bauer, just months after having her heart broken and starting the club.  Now, as The Lonely Hearts Club continues to grow, not only in members from her own school and town, but across the country (and world), Penny Lane must balance her new-found fame, the club, and time with Ryan.  As Penny struggles to balance both (with Ryan getting the brunt of the brush-offs), she realizes, after a heated exchange with Ryan's best friend, Todd, that Ryan has changed since they began dating.  To fix it and help Ryan get back in with his friends and return to "the old Ryan" (the Ryan before Penny), Penny sees only one option: break up with Ryan (then she can't hurt him and he'll go back to the Ryan he was; right?).  After breaking-up with the greatest-guy-ever (and not heeding the advice from older sister Rita "Don't screw this up"), Penny is heart-broken and needs a focus.  With the club and their pending dance-a-thon as that focus, Penny throws herself into the planning (and into Principal Braddock's good (at least for the moment) graces due to the proceeds from the dance-a-thon going to a scholarship for a senior club member and the local rec center), which becomes detrimental to her own health.  With her world spinning out of her control, will Penny Lane be able to learn to balance the club and a boyfriend, or will she give up herself to the good of the club?
Realistic Fiction         Erin Parkinson, Lincoln JSHS
I absolutely loved We Can Work It Out (and The Lonely Hearts Club).  It is refreshing to read a realistic young adult novel that does not focus on "sex, drugs, and rock and roll".  The innocence and reality of We Can Work It Out speaks to many readers because it focuses on what one can lose in a relationship while also exploring the importance of balance in one's life, friendship, and relationships.  The fact that the club began as a way for girls to focus on themselves and their friendships, not just how a guy or others define them, allows this novel to move full circle because Ryan gets lost in the shuffle this time and new student, Bruce, explains to Penny Lane how he had his heart-broken by a girl (it goes both ways).  The reality of the friendships (I love Tracy) and the cruelty between Todd, Penny, and Ryan is very recognizable to readers and mirrors high school relationships and friendships well.  We Can Work It Out is a great testament to balance, friendship, romantic relationships, and the importance of family in one's life; so long as they all play a part and don't overshadow each other.