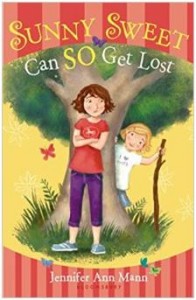 Mann, Jennifer Ann. Sunny Sweet Can SO Get Lost (Sunny Sweet series: Book 3). New York:       Bloomsbury, 2015.  978-1-61963-505-0. 202 p. $15.99.  Grades 2 -6.
Masha and her genius little sister Sunny are on the way to spend their vacation with their dad at a dude ranch out west.  Masha is dreaming of horses and trail rides and doesn't realize until the plane takes off that something is horribly wrong.  Sunny , who booked all of the flights for the family, has booked them on a flight to Maine !  She re-routed them to MATH Camp!  Masha is frantic and angry that Sunny has once again spoiled her plans.  But Sunny has been pretending to be mom and dad , rearranging their vacation to one that she would prefer ( she hates horses).  When Masha tries to make things right, the camp director contacts her parents and both are unable to come get them until camp is over.  Masha must now attend science and math classes and stay at the vegan, gluten free camp for three weeks. As she begins to settle in and make friends, Masha realizes that she may just like it here.  But then Sunny begins to act strange and Masha can't figure out why.

This is the third book in the Sunny Sweet series.  As in the other two books, Masha continues to get angry with her precocious little sister, and yet remain protective of her.  Her character shows the real conflicts of living with someone so bright, and two sisters who are there for each other through the difficult moments of their parent's divorce.  This is a great series for the younger realistic fiction lover.  This may be another series for fans of Judy Moody or Junie B. Jones.  Well written with believable characters and emotions.
Realistic Fiction           Donna Fernandez, Calvary Christian Academy
Yep, Laurence and Ryder, Joanne.  A Dragon's Guide to the Care and Feeding of Humans. New York:    Crown Books. , 2015. 978-0-385-39228-0, 152 p. $15.99. Grades 2-6.
Miss Drake, the magically talented yet grumpy dragon is grieving since the death of her pet human, Fluffy.  But what she doesn't know is that Fluffy has given the mansion and Miss Drake's secret lair to her niece.  Fluffy (aka Aunt Amelia) has also asked ten year old Winifred to look in on Miss Drake since she was concerned that she would need company after Amelia's death.  A knock at the secret lair's door brings the two together and while Miss Drake is not happy about this young and( in her opinion) ill-mannered young girl, she reluctantly gives her a chance to become her pet (humans do NOT have dragon's as pets, it is the human that is the pet in Miss Drake's mind!).  And so begins the friendship and adventures of these two, told from the perspective of Miss Drake the dragon.  As each character gets to know the other, magical things begin to happen and they must work together to set them right.

This is a dragon book with a new perspective.  Miss Drake is proud and yet still grieving her "pets" loss.  Winnie is stubborn and persistent and still grieving the loss of her father.  Together they find comfort in their friendship and work together to solve problems that demand courage and skill. A fun new twist  for dragon lovers of all ages!
Fantasy                Donna Fernandez, Calvary Christian Academy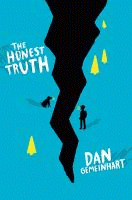 Gemeinhart, Dan. The Honest Truth. New York, NY: Scholastic Press, 2015. 978-0-545-66573-5. 229 p. $16.99. Gr. 4-8.
The Honest Truth explores decision making and anger and family and friendship at a raw level that will make this book an empathetic hit. Mark is a boy who has fought off cancer, but feels he is losing the battle. In response, he takes action and runs away from his Washington home on a quest to hike Mt. Rainier with his faithful dog Beau. Along the way are several fairly insurmountable obstacles, plus the efforts of his loving family and best friend Jessie to find him before it is too late. The chapters alternate between Mark's trip and Jessie's dilemma, with lots of perfect haikus mixed in (because they are his favorite thing to write). This is an amazing debut novel which is full of discussion points, gut wrenching twists and turns, and the honest truth of life.
Fiction; Adventure          Dustin Brackbill, State College Area School District
Northrop, Michael. Book of the Dead. New York: Scholastic, 2015. ISBN 978-0-545-72338-1. 197pp. $11.09. Gr 3–6
Twelve-year-old Alex Sennefer has always been sickly, and just when it looks like he's taken a turn for the worse, his mother, an ancient Egyptian scholar, uses the Egyptian Book of the Dead to save his life. But there are ramifications to unleashing the age-old Book's powerful magic. In Alex's hometown of New York City, and in museums all over the world, the undead start awakening. When Alex's mother mysteriously disappears, it's up to Alex and his best friend, Ren, to find her and to fight the ancient Egyptian black magic. This action-packed book is the first installment in a planned five-book Tombquest series. Each chapter is filled with excitement and suspense, and this title will appeal to middle-grade readers who crave fast-paced action. Reluctant readers, too, will be captivated by the scorpions, curses, and mummies at every turn.
Adventure / Fantasy.       Anne Bozievich, Friendship Elementary School
This title flew off the shelves at my school's spring Scholastic Book Fair. The subject matter – Ancient Egypt – is very appealing to students in the targeted age range, and this book should be popular with students who enjoy serial fiction like 39 Clues or Percy Jackson. The cliffhanger ending will leave readers anxious for the next installments in this series. An accompanying Tombquest game is also available on the Scholastic website.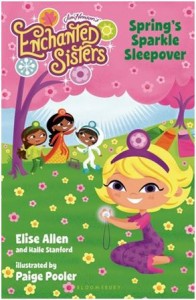 Allen, Elise and Halle Stanford. illustrated by Paige Pooler. Spring's Sparkle Sleepover (Enchanted Sisters series). New York: Bloomsbury, 2015.  978-1-61963-296-7.  123 p. Gr. K-3.
It is finally time for Spring to be old enough to be invited for the sleepover held during the last night of Winter. Secretly, Spring is nervous to leave her comfortable room and sleep elsewhere. She tells a fib that her room in a mess and that she needs to clean in before leaving. It is in her conversation with Mother than she reveals her fear. To help calm Spring, Mother gives her a necklace that has the power to serve as a nightlight.  The sleepover is fun filled with snacks and dancing until later when it is time for scary stories outside. Spring convinces the others to play a game and they select a game of truths or tickles. The truth comes out that Spring was afraid to spend the night. Spring goes home only to soon learn that Mother's scepter has been stolen by Bluster. Can the sisters work together to retrieve the scepter and advance the season to Spring? The novel reinforces the importance of honesty and bravery for young readers.
Fiction,  Friendship    Beth McGuire, Wendover Middle School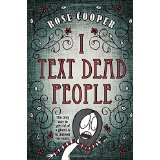 Cooper, Rose.  I Text Dead People.  New York:  Delacorte Press, 2015. 978-0-385-74391-4. 233p. $12.99. Gr. 3-7.
Anna's the new girl at school, and desperate to make friends.  Even if they are…well…dead.  When Anna's' mom inherits a run-down, extra creepy mansion from a deceased, eccentric uncle, she struggles with fitting in at a small, exclusive private school where the cliques are just as exclusive.  Right after moving in Anna finds a cell phone in the woods, and starts receiving text messages from Lucy, the misfit at school, who was found dead in the local cemetery.  It is this reviewer's opinion that the ghostly texts could have started earlier, and been more frequent.  Yet, Cooper provides readers a lighthearted ghost story with a whodunit twist.   Elementary readers looking for a not-so-scary ghost story will enjoy this mildly spooky mystery.  Middle School readers will enjoy the glimpse into high school relationships, and the popular verses unpopular teenage dilemmas that comes with them.Fiction: Spooky/Mystery      Jane Farrell—Dallastown Area Intermediate School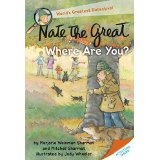 Sharmat, Marjorie Weinman and Mitchell Sharmat.  Nate the Great , Where Are You? New York:  First Yearling, 2015.  978-0-449-81078.  28 p.  Ages 6-9.
Nate the Great is back in a new mystery that will satisfy new and old fans alike.  All of the regulars are in this one, from his sidekick dog Sludge to friends Rosamund, Claude, Annie and her dog Fang and brother Harry.  In this story, Nate and Sludge are trying to take a break from solving their friends' mysteries so they decide to hide.  A trip to a detective costume store does not help, nor does their time in the woods once their friends discover them.  Unlike the other books, this one quickly solves multiple cases.  They are all tied together in a very subtle theme: do not try to be something you are not, just be yourself.  This story also includes many basic elements of a mystery, including a map, clues and a few "wrong turns" or "red herrings."  Once again, Nate narrates the story in first person, adding to the old-fashioned detective show feel.  Repetitive language peppered with descriptive adjectives and verbs will appeal to older and younger readers.

Nate the Great is an excellent series to introduce elements of mystery to younger readers.  This title will be a fun addition to the series.  It has additional enrichment activities in the back that relate to parts of the story.  Random House Kids has online printables and other activities to use in conjuction with the books as well.
Fiction, Mystery   Lisa Weiss, Wrightstown Elementary
Sanderson, Ruth. A Castle Full of Cats. New York: Random House, 2015. 978-0-449-81307-2. 32 p. $16.99. Gr. K-3.
The Queen is a classic cat lover and keeps the castle stocked with cats upon cats. They eat fish out of bowls on the dining table and are spoiled by the Queen. The King, however, is no cat lover. The castle cats take it upon themselves to make the King love them—by bringing "charming little gifts to brighten up his days" (dead mice), "making works of art" (by scratching up the walls), and studying his books (and making a huge mess). The King is not impressed. Instead, he decides that the best plan is to get himself a dog! The cats wonder "Is this the end of all our games? The end of all our fun?" But no, readers see that "The games have just begun!"
Sanderson's clever illustrations give readers many clues that the King is a dog lover. He has paintings of dogs and dog figurines dotted around the castle. He brings home a giant, beastly looking dog who turns out to be wonderful friend to all the castle cats. This story will be great for dog and cat lovers alike and with short, rhyming text the story isn't too complicated for early readers.
Easy Fiction                                         Lindsey Long, Nye & Conewago Elementary Schools
Clement, Nathan. Big Tractor. Honesdale: Boyd Mills Press, 2015. 978-1-62091-790-9. 32 p. $16.95. Gr K-3. 
Tractors are used for all kinds of work, and this big tractor has many jobs to do. The farmer says, "Wake up, Ol' Partner! It's springtime!" And so begins the tractor's many jobs from turning up the dirt and seeding the rows in springtime to mower clover in summertime to harvesting in autumn. The story follows the tractor through each season and readers get a look at each of the tractor's important tasks.
Clement is a graphic artist by trade and his illustrations have a computerized but pleasing look. They are full of colors and details that showcase each season such as the sun shade umbrella perched on the tractor to block the summer's harsh rays. The text is basic and will be enjoyed by boys and girls who love big vehicles, farm life, or just want a pleasant story.
Easy Fiction                                         Lindsey Long, Nye & Conewago Elementary Schools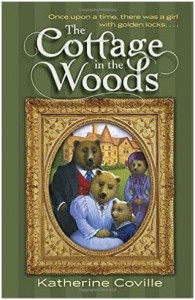 Coville, Katherine. The Cottage in the Woods. New York: Alfred A. Knopf, 2015. 9780385755733. 400p. $12.00. Gr 5-8.
Grimm meets Brontë in this intriguing tale of Ursula, a young bear governess who has been charged with the care of Teddy Vaughn. Our heroine quickly discovers that there is something mysterious afoot in the Vaughn mansion when she hears noises and unexplained occurrences at night and is sure that someone is following her through the woods. The girl with the golden locks, who lives with the Vaughn family, becomes the center of contention in a court case as a group of humans attempt to limit the freedom of the animals in the Enchanted Forest. Finally, there is Mr. Bentley who confuses her by both infuriating and intriguing her at the same time. This coming of age fairy tale contains numerous twists and turns and references to familiar plots and characters not all of which will end happily ever after.
Fantasy                                 Robin Bartley, Davis Elementary School