Arnold, Tedd. Fly Guy Presents Insects. New York: Scholastic, 2015. ISBN 978-0-545-75714-0. 32pp. $3.99 pbk. Grades K–2.
In this nonfiction book, Buzz and his pet, Fly Guy, look for and learn about different kinds of insects. They discover that there are more than one million kinds of insects in the world, and they learn general information about insects' size, life cycle, bodies, diets, and habitats. The writing style and facts presented in this title are perfect for the youngest elementary readers. Pronunciation is included for new vocabulary words, and Tedd Arnold's trademark squiggly illustrations are supplemented by close-up labeled photographs of many kinds of insects. This title will be a perfect addition to elementary collections, and Fly Guy fiction fans will gravitate towards it.Nonfiction: 595.7 Insects           Anne Bozievich, Friendship Elementary School
Fly Guy fiction and nonfiction titles are highly-circulated in my school, and I look forward to adding this one to my insect collection. First graders study insects each spring, and I know this will be a popular title with both first grade teachers and students. In my opinion, one of the strengths of this title is the mix of colorful cartoon illustrations, up-close photographs, narrative story, and journal entries. The format makes readers feel like they are on a nature walk with Buzz and Fly Guy because they are learning right alongside the characters.
Arnold, Tedd. Fly Guy Presents: Insects. New York: Scholastic, Inc, 2015. 978-0-545-75714-0. Unpaged. $3.99. Gr K-2.
A book with fictional characters that pairs great pictures with clear information, in this Fly Guy, Buzz and Fly Guy venture to Tangly Woods Nature Trail to find out more about insects. THOUGHTS: This book is great for a beginning reader because it is a visual journey of discovery that will keep them asking for more.
Nonfiction Picture Book   Caroline Romano Wallenpaupack Area School District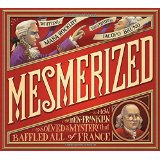 Rockliff, Mara. Mesmerized: How Ben Franklin Solved a Mystery that Baffled All of France. Somerville, MA: Candlewick, 2015. 9780763663513. 48p. Gr. 3-5. $17.99.
This is a great book that explains the scientific method in a manner that students of all ages will understand. With the use of fantastic illustrations and vocabulary that is 'basic', students will be able to learn about the scientific method. It is funny and will appeal to boys and girls alike. It can be used as a classroom read aloud or individually as a resource for more specific research.
973.3 Revolution/Confederation         Krista Goodzinski/Mars Centennial
Walker, Sally M. Winnie: The True Story of the Bear Who Inspired Winnie-the-Pooh. New York: Henry Holt, 2015. 9780805097153. 40 pgs. Gr. PK-3. $17.99.
This adorable picture book is a wonderful read-aloud for elementary aged children. It is the true story of how Winnie-the-Pooh came to be. She was originally named by a soldier during WWI. But it wasn't until A.A. Milne's son, Christopher Robin, fell in love with Winnie at the London Zoo that she became famous. Many bedtime stories about Winnie turned into the much loved stories that we read today. There are not only beautiful illustrations, but photographs of Winnie's original 'owner' and of A.A. Milne and Christopher Robin.
599.78 American Black Bear                  Krista Goodzinski/Mars Centennial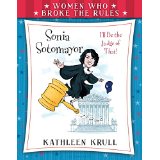 Krull, Kathleen.  Women Who Broke the Rules (4 volume set with 2 titles forthcoming).  New York: Bloomsbury, 2015. 48 p. $16.99.  Gr. 1-4.
–. Sonia Sotomayor. 978-0-8027-3797-7
–. Dolly Madison.  978-0-8027-3793-9
–. Sacajawea.  978-0-8027-3799-1
–. Judy Blume.  978-0-8027-3795-3
This new series from children's biographer Kathleen Krull celebrates the series title: women who broke the rules in some way, shaping our history in the process.  The diversity of women covered, from author Judy Blume to first lady Dolley Madison and Supreme Court Justice Sonia Sotomayor encourages readers to learn about a variety of subjects. Humorous subtitles ("I'll Be the Judge of That" and "Lewis and Clark Would Be Lost Without Me") alert readers that this is no ordinary dry biography.  The tone is conversational, including actual quotes from the women themselves.  It is told in story-like fashion, much like the Who Was series for slightly older readers.  Interesting and unusual details about each woman's life add interest.  The author includes honest but straightforward accounts of challenging events, including divorce, illness, etc.  Colorful illustrations note details from each chapter.  Different illustrators have done each book, capturing the woman's style and time period well.  A table of contents, index and list of further readings/sources (with books and websites listed separately, some noted for younger readers) give students clear access to information.  The publisher's website includes a discussion/activity guide.
Students who are not yet ready for the Who Was series will love these books.  They may not be best for research, although the text features will help locate information, unless a student is searching for "interesting information."  I found the narrative nonfiction tone and unusual facts quite interesting, and enjoyed reading through each one!  I suspect students (and I) will eagerly await the next two titles, Mary Todd Lincoln and Coretta Scott King.
Biography      Lisa Weiss, Wrightstown Elementary
Wheeler, Jill C.  Alvin Schwartz.  Minneapolis, Minnesota:  Checkerboard/Abdo Publishing,  2015.  978-1-62403-670-5.  24 pages.  $17.05.  Gr. 3-5.
In this short children's biography, the life of author Alvin Schwartz is presented.  Schwartz was best known for his many folktales including Scary Stories to Tell in the Dark, In a Dark, Dark Room, and There Is a Carrot in My Ear. This informational text  includes a glossary, webliography, and glossary.
921 – Biography      Anastasia Hanneken, School Lane Charter School
This biography of author, Alvin Schwartz is part of the Abdo/Checkerboard Library's Children's Authors series.  My students are always eager to read about favorite authors.  Alvin Schwartz's books continue to be a favorite, and I am sure this biography will be well received.  With this book's short chapters, vibrant photography, and easy to read text, students will enjoy reading this book.  Any library in need of easy level biographies on children's authors, should consider this book and series.
Colich, Abby.  Wilma Mankiller.  North Mankato, Minnesota: Capstone Press, 2015.  978-1-4914-0540-6.  24 pages.  $15.99.  Gr.  K-1.
This children's biography presents the life of Wilma Mankiller, who was the first female chief of the Cherokee nation. Included in this biography is information on Wilma's early life, teenage years, and later life.  A glossary, bibliography, webliography, index, and critical thinking section are included in this text.
921 – Biography         Anastasia Hanneken, School Lane Charter School
This book is part of the Great Women in History series by Capstone/Pebble.  This set will appeal to both early elementary students and reluctant readers,  A timeline is pictured throughout the book.  This makes Wilma's accomplishments throughout her life clear to younger students,  The full page photos and easy to read text are sure to interest students, and would be a welcome addition to any elementary or children's library.

Xtreme Insects (series) N. Mankato, MN: A&D Extreme, 2015. 32p. $27.00ea. Gr.3 and up.
Hamilton, S.L. Mantis 9781624036903.
Hamilton, S.L. Bees & Wasps 9781624036873.
Hamilton, S.L. Roaches 9781624036859.
Hamilton, S.L. Flies 9781624036897.
Hamilton, S.L. Ants 9781624036866.
Hamilton, S.L. Beetles 9781624036880.
This series is chock full of full color magnified photos, facts, and trivia that will entice and fascinate young readers. Bigger than life photos will stimulate curiosity by opening up this previously overlooked world teaming with activity. The text contains a glossary and an index as well for quick and easy reference and answers to all the questions it will raise in the readers' inquiring minds. They are sure to attract science "bugs" as well as novices.
595; Insects               Robin Bartley, Davis Elementary School