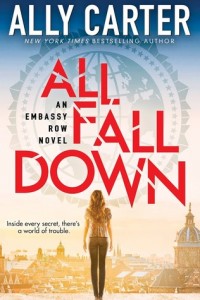 Carter, Ally. All Fall Down (Embassy Row Bk. 1). New York: Scholastic, 2015. 978-0-545-65474-6. $17.99. 310p. Gr. 7 and up.
Grace Blakely is sure of three things: she's not crazy; her mother was murdered, and one day she will find the killer and make him pay.  These are the only absolutes Grace has as her world changes once again three years after her mother's death.  With her father deployed and her brother at West Point, Grace must live with her grandfather, the United States Ambassador to Adria.  Having spent summers in Adria for most of her life, Grace is familiar with Embassy Row and the rules of life in the embassy, but that has never before stopped Grace.  With her return to Adria, Grace is constantly reminded of her mother, who grew up in the embassy, and is haunted by memories of her mother, her murder, and the subsequent fire that Grace witnessed three years ago.  During a "mission" in the abandoned Iranian embassy, Grace overhears two people secretly meeting, one of which she recognizes as the "Scarred Man" who murdered her mother.  After multiple run-ins with "the Scarred Man", one of which he refers to her by name, Grace's determination to avenge her mother's murder heightens, as do her memories of her mother, her death, and the fire.  When she tries to share this information with her grandfather and Ms. Chancellor, his assistant, they inform Grace that the man she has been running into is Dominic Novak, the Prime Minister's Head of Security, a man who could never have murdered her mother because it was an accident, and this is not the first man Grace has accused of murdering her mother since the accident.  With new found friends, Noah and Rosie, and old friend Megan, Grace sets out to avenge her mother's death.  As Grace is continually haunted by that night and told that she is only imagining a murder, she learns more about the secret lives led in Adria on and off of Embassy Row and learns the truth behind her mother's death and life.  Ally Carter once again weaves mystery, thrills, reality, and fabulous characterization into the first book in a new series about life on Embassy Row and the realities behind the façade.
Mystery    Erin Parkinson, Lincoln JSHS, Ellwood City
I loved Ally Carter's series Heist Society, so I was very excited to read All Fall Down, Book 1 of her new Embassy Row series.  Grace is a fabulous female protagonist who struggles with memories of the death of her mother after witnessing it and the fire that destroyed her only stability.  Upon her return to Adria, she is haunted by memories of her mother.  As Grace tries to cope with these memories and her need for vengeance, she is continually told by her grandfather, Ms. Chancellor, his assistant, and Alexi, his brother's best friend who lives at the Russian Embassy, that her mother's death was an accident, not murder.  Yet, Grace cannot accept this; she knows someone killed her mother, and she will stop at nothing to find him and make him pay.  Through Grace's actions, reactions, and memories, the reader is often left questioning whether or not Grace truly witnessed anything or is she just trying to cope with her mother's death by creating a story from her memories.  She does not appear to be a reliable narrator, but as the novel progresses the reader realizes that perhaps Grace has a point and is the reliable narrator.  Maybe it's everyone else who is unreliable and hiding the truth from Grace?  The supporting characters are intriguing and established just enough for future storylines either about them or their embassy.
One final note – I wanted Grace to be more spiteful and fight more against her grandfather and Ms. Chancellor.  I felt that she gave in a bit too much, but after finishing the novel (which I did not want to end), Grace made perfect sense.