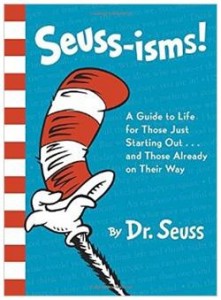 Seuss, Dr. , Seuss-isms!: A Guide to Life for Those Just Starting Out… and Those Already on Their Way, New York: Random House, 2015.  978-0-553-50841-3. 56 p.  $9.99. Grades K and up.
Seussisms  is a collection of  inspirational quotes from Dr. Seuss's many books.  This clever compilation mines the gems of advice from Dr. Seuss's writings and combines them into a "Guide to Life" .  Each quote has a quick phrase of wisdom above it.  For example: "Expand Your Horizons: The more that you read, the more things you will know.  The more that you learn, the more places you'll go." – I Can Read with My Eyes Shut!  Of course each quote also includes the wonderful illustrations that only Dr. Seuss could imagine.
This would be a fun gift for the Seuss fans in your life for any milestone, graduation from high school or college, embarking on a new job, or just a gift from a teacher to their students.
Compilation of Quotes                 Donna Fernandez, Calvary Christian Academy
Scattergood, Augusta. The Way to Stay in Destiny. New York: Scholastic, 2015. ISBN 978-0-545-53824-4. 179pp. $16.99. Grades 4-6.
Twelve-year-old Theo has two passions: music and baseball. He's a prodigy on the piano, and his prize possession is an autographed Hank Aaron baseball card. He has a comfortable life on his grandparents' Kentucky farm until they grow too old to care for him. His only other living relative is gruff Uncle Raymond, a Vietnam War veteran who swoops in and uproots Theo, moving him across the country to the small town of Destiny, Florida. Uncle Raymond forbids Theo from pursuing any kind of music, and Theo struggles to fit into his new life. Eventually, he meets Anabel, a tomboy who is more interested in validating the rumor that major league all-stars once trained in Destiny than practicing for her upcoming dance recital. Scattergood's writing beautifully captures Theo's passion for music as well as his loneliness and longing to forge connections in his new surroundings. Set in the 1970s, this story's blend of sports, music, mystery, and adventure will appeal to a range of middle-grade readers.
Historical Fiction (1970s).                              Anne Bozievich, Friendship Elementary School
Scattergood's knack for creating believable characters with unique, memorable personalities is what makes this title shine. Her dialogue is spot-on, and she deftly weaves tidbits from the 1970s, such as 45 records, the television's large knobs, and Theo's bulging knapsack, into her writing to create a perfect backdrop for her story of Theo and Anabel's adventures in small-town America.  I plan on recommending this title to my sixth grade teachers, and I think it will be a perfect guided reading book to accompany their social studies unit on the Vietnam War time period.
Atwater-Rhodes, Amelia. Bloodkin. Delacorte: New York: Delacorte, 2015. 978-0-385-74305-1. 279 p. $16.99. Gr. 8 up.
Kadee Obisidan is wanted for treason. The Obsidian Guild is blamed from every ill. In this world human are slaves and Kadee is half human yearning to meet her human parents once again. Their quest will lead Kadee to the memory of the harp player from her childhood to help ease her deadly seizures. Vance, a quetzal shapeshifter, and Kadee visit the Shantel high witch leading the duo to deliver a message and make a deal with the group known as Midnight. Which group will come out on top in the second volume of The Maeve'Ra? Vampires, shapeshifters and witches oh my. Due to the complex relationship, violence in encounters and dialogue, the novel is best suited for older readers.
Fiction, Supernatural, Adventure, Relationships  Beth McGuire, Wendover Middle School
Baker, E.D. Princess in Disguise. New York:Bloomsbury, 2015. 978-1-61963-573-9. 215 p.  $16.99. Gr. 3-6.
Princess in Disguise is the fourth book in the series entitled A Tale of the Wide-Awake Princess. For some reason bad magic is getting in the way of Princess Annie and Prince Liam's wedding preparations. It is raining uncontrollably, the roof is leaking, there is an army outside of the castle, Liam's father has not yet arrived, and the outside arama is of pea soup.  Annie will play the role of Liam's brother as they don peasant clothing in search of Moonbeam to help stop the crazy situations. Through their journeys they will meet many townsfolk and ogres. Some themes that readers could cling to throughout the journey would be that others are nicer than you realized  and it is never too late to invite a friend to an occasion.  At the end, it is revealed that not only was Princess Annie in disguise but so was another guest at the castle. Readers that devour mixed up fairy tales or those reading the series will find contentment with this novel.
Fiction, Mixed-up Fairy Tale     Beth McGuire, Wendover Middle School
Schulz, Heidi. Hook's Revenge. New York: Disney-Hyperion, 2015. 9781423198673.304p. $16.99. Gr. 3-6.
Jocelyn is not your typical girl. She isn't interested in learning how to needlepoint or what proper clothing is required for breakfast. Jocelyn wants to climb trees, fight with a sword, and most importantly, avenge her father's, Captain James Hook, death. After being 'shipped' off to boarding school, Jocelyn discovers a locket that was her mother's along with the best friend she never thought she would have. Jocelyn is 'carried' away to Neverland where she establishes her own sailing crew that is going to assist her in killing the crocodile that killed her father. Along with other familiar names and themes, Jocelyn embarks on the biggest adventure of her life, while also learning a very valuable lesson about the true definition of courage and friendship. Fans of the Kingdom Keepers series will definitely enjoy this first book in the series.
Fantasy/Adventure        Krista Goodzinski, Mars Centennial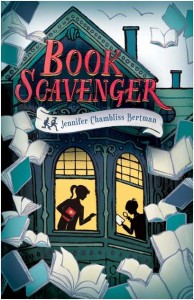 Bertman, Jennifer Chambliss. Book Scavenger. New York: Henry Holt, 2015. 9781627791151. 368p. $16.99. Gr. 4-9.
To say that Emily has moved a lot would be an understatement. A number of years ago, her parents decided that it would be an adventure to live in each of the 50 states, which resulted in them packing up and moving every year. Because of her situation, Emily has not been able to establish friendships that last. To make up for her lack of friends, Emily has been involved in the 'Book Scavenger' game, which allows her to play anywhere she lives. Little did Emily know that when her family moved to San Francisco, home of the inventor of the 'Book Scavenger' game, that not only would she make a friend, but together they would go on the most exciting 'Book Scavenger' hunt ever. This is a fun read that introduces readers to the many books written by Edgar Allan Poe. Some of the vocabulary used is a little crude and may be a little much for younger readers.
Mystery/Adventure/Friendship         Krista Goodzinski/Mars Centennial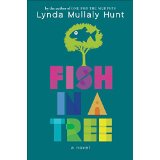 Hunt, Lynda Mullaly. Fish in a Tree. New York, NY: Penguin Young Readers, 2015. 9780399162596. 276 p. $16.99. Gr 4-8.
Ally knows that something is wrong with her, and she spends a lot of time at school trying to hide that weakness. Often this gets her in trouble, even when she tries to do the right thing. But a new teacher helps her find hope and courage to face her reading disorder and find a way to be herself in class. She learns that "Everybody is smart in different ways. But if you judge a fish by its ability to climb a tree, it will live its life believing it is stupid." With additional themes about military families, bullying, and friendship, this touching tale will be great for classroom read alouds and discussions, hopefully encouraging empathy and a chance for everyone in the class to shine!
Realistic Fiction, Learning Differences, Bullying    Dustin Brackbill, Mount Nittany Elementary School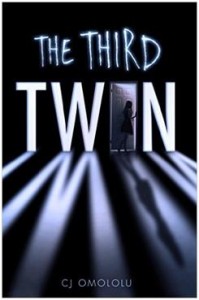 Omolulu, C.J. The Third Twin. New York: Random House, 2015. 97803857445222. 336p. $12.00. Gr. 8+.
Lexi and her sister Ava are twins. Ever since they were little they have been playing a game where their imaginary third twin, Alicia, is blamed for any bad behavior. Now that they are teenagers, Alicia has become more wild, free-spirited and provocative. It is all fun until one of Alicia's boyfriends turns up dead. Lexi wants to stop the game but Ava convinces her to stick to the rules and everything will be fine. When another boyfriend dies and all the evidence points to Alicia, the twin who doesn't exist, Lexi needs to figure out the truth. Either her twin sister Ava is a murderer or Alicia is REAL!
Suspense/Mystery              Robin Bartley, WTHS
Littlefield, Sophie. Infected. New York: Random House, 2015. 9780385741064. 256p. $12.00.Gr. 9+.
Carina is a senior in high school. Her mother and uncle, the only family she knows, are both dead as a result of an accident related to their research for a national security organization. When she finds a code hidden in the ring her mother left her, she recruits her boyfriend, Tanner, to help uncover the truth. As they struggle to keep her family's work from falling into the wrong hands, unraveling cryptic puzzles and discovering hidden family secrets begin to make Carina's question everything she has been led to believe in her life. She and Tanner have both been infected with strange powers and she only has 36 hours or she could lose Tanner too.  Due to the violence, profanity and sexual innuendo in the book, I would only recommend for mature readers in middle school or high school as opposed to the 12+ which the publisher suggests.
Action/Thrilller                             Robin Bartley, WTHS
Jenkins, Emily. A Fine Dessert: Four Centuries, Four Families, One Delicious Treat. New York: Schwartz & Wade Books, 2015. 978-0-375-86832-0. 38 p. $17.99. Gr. K-4.
Blackberry fool is one "fine dessert" that has been enjoyed by families for hundreds of years. The story begins with a young girl and her mother picking berries outside their English town in 1710. The story progresses to 1810 Charleston and a slave mother and daughter making the dessert for the master's family and hiding in the closet to lick the bowl clean at the end of the meal. In 1910 Boston a girl and her mother buy blackberries at a market and make blackberry fool for Sunday dessert. Finally, a boy and his father buy organic fruit and cream at a supermarket in 2010 San Diego to make the dessert for a friends and family dinner party. As the story moves from one scene to another, clever readers will notice the differences not only in time and place but also in how the ingredients are acquired, the kitchen tools used, and the makers themselves. For example, in 1710 the woman used a whisk made of twigs to whip the cream; in 1810, the slave girl used a metal whisk; in 1910, the woman used a rotary beater; in 2010, the boy used an electric mixer.
This is one of the most interesting books that I have read in a long time, and not just for the actual text—the author and illustrator each include a note at the end of the story giving information that is just as interesting as the text! The author notes that she hopes the story will spark conversations about bigger topics such as slavery and the changes in domestic work (now men cook, too). The illustrator talks about how she researched many topics to make the art authentic and even made whipped cream and used a twig mixer! She squished blackberries to make the dessert for her family and used the juice to paint the endpapers. They are beautiful. Included is a recipe for blackberry fool. This book is a winner!
Easy Fiction                  Lindsey Long, Nye & Conewago Elementary Schools
Crum, Shutta. Uh-Oh! New York: Alfred A. Knopf, 2015. 978-0-385-75268-8. 28 p. $16.99. Gr. K-3.
Crum and illustrator Patrice Barton work together to create a pleasant tale about a tale about the beach. Two little ones have many "uh-oh!" moments during their day at the beach. They play in the sand, interact with a seagull, find a shell, and put a crab back in the ocean. Nothing extremely exciting happens but it's a peaceful story that will remind many kinds of their vacation.
This could work as a good story starter to help students write about their own day at the beach or on vacation. Barton's illustrations are gently shaded with subtle colors and patterns. It's a little gem.
Easy Fiction                                         Lindsey Long, Nye & Conewago Elementary Schools