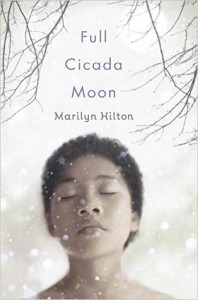 Hilton, Marilyn.  Full Cicada Moon.  New York: Dial, 2015.  978-0-525-42875-6.  $17.99. 400 p.  Grades 5-8.
It's 1969, and Mimi Yoshiko Oliver and her mother are finally moving to Vermont to be with Mimi's father.  Mimi's father is a college professor, but their new neighbors are not used to living with people who are "different", especially with someone like Mimi, who is half black and half Japanese.  Mimi's father tells her to, "Be kind, be respectful, and persist."  Mimi takes his advice to heart.  In spite of continued bigotry, she begins to make good friends.  She grows close to a girl named Stacey (another professor's daughter) and Timothy (the boy next door who lives with his bigoted uncle). She does well at school and dreams of being an astronaut when she gets older.
Mimi is angry when she discovers that she will not be allowed to take shop. Only boys are able to take shop; girls need to learn how to sew and cook.  She decides to calmly and politely protest the school's policy and ends up getting suspended.  During the time that she is away from school, her classmates show their support by staging a sit-in.  This is all happening during a time of tremendous social change; protests over the Vietnam War are raging on, and the Apollo Space Program is putting a man on the moon.  Change is also beginning to take place in Mimi Yoshiko Oliver's corner of Vermont, and her life will never be the same.
Historical Fiction (1960s); Novel in Verse         Susan Fox, Washington JSHS
This is a wonderful book.  Mimi is a likeable heroine, and you can't help rooting for her.  The verse format manages to convey Mimi's frustrations, sadness, and ultimate joy in only a few words.  The author is also able to capture the ethos of a turbulent period in American history within the limits of this format, and it is beautiful.  This book is highly recommended for middle and junior high school students.