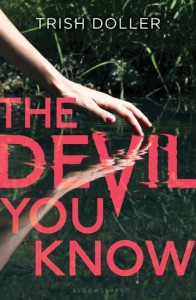 Doller, Trish. The Devil You Know. New York: Bloomsbury, 2015. 978-1-61963-416-9. 246 p. $17.99. Gr. 9 and up.
In the summer after high school graduation, Cadie Wells wants to ditch backward-looking drama with her ex-boyfriend and find some "forward adventure" instead. She's also itching for a break from all the responsibility she's shouldered at home since her mom's death three years ago. A chance for a few days of freedom arrives at a campfire party in the form of hunky cousins Noah and Matt. Cadie impulsively accepts an invitation to join both guys on a canoe trip around some local Florida waterways. Though caught up in the excitement and her lust for Noah, Cadie has a nagging sense of guilt over ditching her dad and little brother. She also questions whether she can fully trust Noah, who has a violent past, especially when two missing persons seem to overlap with his travels. This is a very fast-paced romantic thriller. I love the way Trish Doller incorporates the steamy, sticky wilds of Florida and some survival elements into the narrative. This will be popular with teenage girls who like their romantic reads with a dangerous twist. It would be perfect to read this one in a tent after a long day of paddling on the river!
Thriller            Amy V. Pickett, Ridley High School
In
The Devil You Know
, Cadie and Noah share an intimate moment in the Devil's Chair in the Cassadaga, FL, graveyard. This wonderfully creepy setting is
real
! The Devil's Chair was supposedly built for an elderly widower to visit his wife's grave, but urban legends about the chair abound. As with the mortsafes featured in Dianne Salerni's
The Caged Graves
, it would be fun to incorporate pictures of these real places into a booktalk!