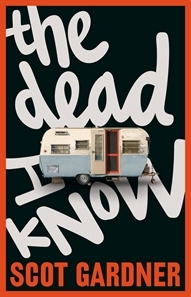 Gardner, Scot. The Dead I Know. New York: Houghton Mifflin Harcourt, 2015. 978-0-544-23274-7. 201p. $17.99. Gr. 7 and up.
Aaron's life is like a puzzle.  He has terrible recurring nightmares everytime he falls asleep, so he tries not to sleep.  When he does sleep, he sleepwalks and ends up in dangerous places.  His Mam is going more and more into dementia, and Aaron needs to take care of her, but he also needs money and a job.  He and his Mam live in a trailer park with some pretty tough people that may be out to rob or hurt them.  He gets a job at a funeral home with a man who is happy to give him all sorts of opportunities like a new suit, help with getting a driver's license, and even invites him to eat meals with his family, but Aaron has too much to hide to trust his new boss. As Aaron finds stability in his job with death, the control he has on his life starts to fall apart. Will he be able to face the truth of his past before it destroys him entirely.
Mystery/Psychological Thriller     Rachel Gutzler, Wilson High School

This was a great dark and mysterious read.  I found myself really sucked into the story and finished this book quickly in one afternoon.  I found Aaron to be very human, and his story believable yet sad. I really felt for him and the problems he had with job, family, living situation, and past issues.  This story would appeal to boys, and reluctant readers, as it is just 200 pages, and doesn't look intimidating.  Mystery readers would also enjoy reading this short novel.