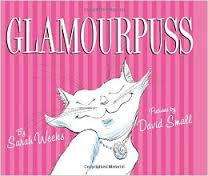 Weeks, Sarah. Glamourpuss. New York: Scholastic, 2015. ISBN 978-0-545-60954-8. 32pp. $16.99. Grades K–3.
Glamourpuss is an outrageously pampered cat who lives with her gazillionaire owners, Mr. and Mrs. Highhorsen. She has her own room, complete with canopied cat cushion, curtained litter box, and shining chandelier. Her only job in life is to be glamourous, and she excels at it. She doesn't walk down the staircase; she descends. She doesn't lie down; she reclines. And, she doesn't stretch; she extends. Glamourpuss captivates her owners' attention until the day Mrs. Highhorsen's sister arrives with her Chihuahua, Bluebelle. With her tiny wagging tail, suitcases stuffed with costumes, and endless display of tricks, Bluebelle steals Glamourpuss's spotlight. It isn't until Glamourpuss glimpses Bluebelle's true, un-costumed personality that the two realize that it may be possible to have too many accessories, but you can never have too many friends.
Picture Book.           Anne Bozievich, Friendship Elementary School 
Sarah Weeks's story and David Small's illustrations burst with personality, and readers will love getting to know this diva cat. From the glittery pink cover to the expressive ink and watercolor illustrations, this picture book hits all the right notes. Fans of Fancy Nancy and Karen Beaumont's Shoe-la-la will scoop this one up.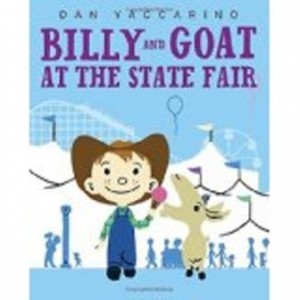 Yaccarino, Dan. Billy and Goat at the State Fair. New York: Alfred A.Knopf, 2015. 978-0-385-75325-8. unpaged. $16.99. Gr. PK-1.
This is the perfect tale of friendship. Two characters, Billy and Goat, complement each other in the best way. Billy works hard, fixing tractors and reading books. Goat reminds him to have fun, go on adventures, and to make his own path. When the state fair comes along, Billy knows that Goat could easily get the blue ribbon. Once they're there, Billy learns to have adventures with Goat. They enter contests and go on every ride! In the end, Billy realizes his goat does not have to win a prize, Goat is already the best of the best. The delightful illustrations keep us turning the pages to see what Billy and Goat do next.
Picture Book: Friendship.    Caroline Romano Wallenpaupack Area School District
Olson, Jennifer Gray. Ninja Bunny. New York: Alfred A.Knopf, 2015. 978.0-385-75493-4. unpaged. $16.99. Grades PK-3.
This is the story of a bunny who has one goal: to be a super awesome ninja! Rule No. 1, according to his book "How to be a Super Awesome Ninja," is ninjas must always work alone. (Even though, we know his bunny friends want to join.) After he practices climbing, balancing, and even invisibility, it's time for his first battle alone. On second thought, ninja bunny decides to come up with his own rules. The first rule is that a super awesome ninja needs super awesome friends. The inviting illustrations keep readers glued to the story from the beginning to the end. Highly recommended.
Picture Book: Friendship Caroline Romano, Wallenpaupack Area School District
Bliss, Harry. Luke on the loose.New York: ABDO 2015. 978-1-61479-302-1. $9.95. 32p. Gr.PK-1.
Even though there are words in this book, the pictures drive the story. Luke is so focused on chasing after pigeons that he isn't aware of the people around him. He disrupts people and animals on the sidewalk, in the streets, and even in restaurants. He follows the pigeons to the very top of a roof, and finally exhausted he falls asleep next to them. Does he want to do it all again the next day? This engaging epic provides many opportunities to talk about safety, visual storytelling, and what Luke will do next. All of your readers will thoroughly enjoy this story.
Picture book: Adventure. Caroline Romano Wallenpaupack Area School District

​Regan, Dian Curtis. Space boy and His Dog. Honesdale, PA: Boyds Mills Press, 2015. 9781590789551. 32 p. $16.95. Gr K-2.
The lines of sibling rivalry and make-believe imagination are drawn, and revised, in this interesting picture book. Niko is looking for an adventure for his dog and his cardboard rocketship, but doesn't want his sister Posh to tag along. However, once they arrive on the moon to find a lost cat, Posh intrudes on the story and quickly helps solve the case. Jealousy and arguments arise. The rift between the siblings grows when Niko leaves her behind, in a move that causes the crew to revolt. When the adventure ends and they return to the real world, the stubbornness of both children is subtly noted in a semi-satisfying ending. This plot lends the book as a useful tool to discuss sharing, emotions, and imagination without overtly giving answers.
Picture Book       Dustin Brackbill, Mount Nittany Elementary School
Barton, Bethany. I'm Trying to Love Spiders (But It Isn't Easy). New York, NY: Viking Press, 2015. 9780670016938. 32 p. $14.99. Gr K-3.
There are some books that speak to me immediately and make me wish that I wrote it. This is one of those books! Bethany Barton relates her struggles to accept, appreciate, and even enjoy spiders in a voice that will be relatable and persuasive to young readers. The one big catch, though, is that she is not quite able to overcome the impulse to squash the arachnids, leaving several large ink splots on the pages after she loses her cool. The facts about spiders are fascinating, and the illustrations and variety that she displays will be creepy and/or wonderful for spider loathers or lovers alike! This is a unique approach to a sensitive subject which will help kids ponder and persuade with some laughter mixed in.
Picture Book       Dustin Brackbill, Mount Nittany Elementary School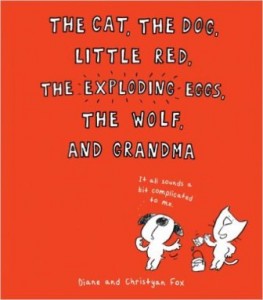 Fox, Diane and Christyan. The Cat, The Dog, Little Red, The Exploding Eggs, The Wolf, and Grandma. New York: Scholastic Press, 2015.  978-0-545-69481-0. $16.99. Gr. K-2.
In this fun, retelling of the beloved Little Red Riding Hood, readers get to explore the tale through silly commentary between cat and dog. Both characters are interested in the story, but in different ways. The cat tries telling the story exactly as is should be told while the dog keeps trying to put a modern twist on things (i.e. if Little Red has a cape, she must be a superhero!). Cat's frustration along with dog's wild imagination will make readers hysterical, just as they are when listening to or reading the banter between Elephant and Piggie.
In addition to the silliness, this is really just an interesting take on Little Red Riding Hood. Dog actually poses questions that children might also have when reading the story. For instance, where does grandma end up at the end? And, why doesn't the wolf just attack Little Red right away when he meets her in the woods? Not only would this make for an uproarious read aloud, it would be a great way to introduce fractured fairy tales and conduct lessons on different ways of interpreting the same story. Why not create a lesson using dog's ideas as writing prompts for students? What if Little Red was a superhero? What if her basket was filled with gadgets, like exploding eggs? However one decides to utilize this story, it will surely be a winner!
Picture Book      Lisa Naylor, Concord Elementary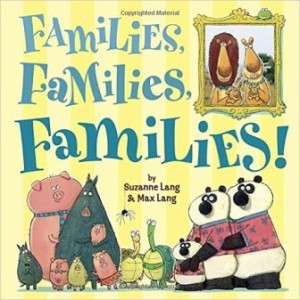 Lang, Suzanne and Max. Families, Families, Families. New York: Random House, 2015.  978-0-553-49938-4. $16.99. Gr. PreK-2.
Growing up in today's world often means recognizing and accepting differences in others. Many schools focus much of the day helping students understand empathy and diversity. Keeping the library diverse to match those ideals is extremely important. In Families, Families, Families, readers are introduced to just about any kind of family structure one could think of. Without going into much detail, each page simply shows a picture of a family represented by different kinds of animals and a short, often rhyming phrase. The first few pages are as follows "Some children have lots of siblings./Some children have none./Some children have two dads./Some have one mom." Sweet, simple, and to the point. This goes on until the last few pages where readers are finally told, no matter your situation, "if you love each other, then you are a family." Excuse me while I go mop up my melted heart.
I don't think that I stopped smiling, not even once, during this very sweet story. This would make a wonderful addition to any library and I hope that many people consider adding it, along with other titles representing diverse family dynamics.
Picture Book                  Lisa Naylor, Concord Elementary