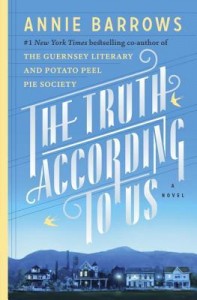 Barrows, Annie. The Truth According to Us. New York: The Dial Press, 2015. 978-0-38534-294-0. 512 p. $28.00. Gr.9+.
Though marketed mainly for adults, this new novel by Annie Barrows will appeal to teens who enjoy character-driven and historical dramas. Set in the fictional small town of Macedonia, WV, in the summer of 1938, the novel focuses on one family, the Romeyns, whose simple lives are uprooted when Layla Beck comes to board with them. Layla has been cut off by her Senator father, and her uncle gets her a job through the WPA to write the history of Macedonia. Living in the family home are Jottie, the eldest sister and matriarch of the family, her gallivanting brother Felix, his two daughters, Willa and Bird, from a divorce, and twins Mae and Minerva (who are both married but choose to spend a majority of their time living in the family home). The family's father used to run the local mill, American Everlasting, but the reader slowly learns why the family is no longer associated with the mill. The novel is told through twelve-year old Willa's first person narration, letters from Layla to her family, and third person from the point of view of Layla and Jottie, who also recounts frequent memories from her youth. Jottie was in love with Felix's best friend Vause Hamilton, whose tragic death at a young age haunts the family and guides the plot through the long hot summer of 1938. As Layla uncovers the town's history, Willa discovers more about her secretive father (and aims to protect him from a budding relationship with Layla). Jottie wrestles with loyalty to her brother and happiness for herself. The passages from Willa are enjoyable and reminiscent of Scout's voice in To Kill a Mockingbird. Jottie's memories are heartbreaking and powerful. At its heart, this is a family drama that takes readers back to a simpler time while encouraging them to think on their own familial relationships and how simple actions and events change the course of our lives forever. I highly recommend this to teens who enjoyed To Kill a Mockingbird. This is a definite must for all high school collections.
Historical Fiction (Great Depression)    Lindsey Myers, Shady Side Academy Senior School
I truly enjoyed this novel. Not only because I could relate to living in a small town in West Virginia, but also because Barrows is such a gifted storyteller and her characters are so interesting. None of them are perfect, and it is their faults that make them interesting and unique to the reader. This would make an excellent choice for a book club to read, as the actions and opinions of the characters could be constantly debated and argued for or against. I look forward to reading future titles by this author.