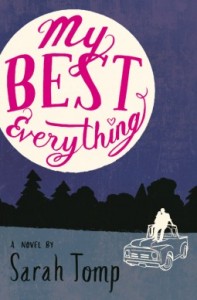 Tomp, Sarah.  My Best Everything.  New York: Little, Brown and Company, 2015. 978-0-316-32478-6. $18.00. 394p. Gr. 9+.
Being a good girl has finally paid off.  Lulu has just graduated high school and is looking forward to leaving her small town home in Virginia for scintillating, sun-drenched California and college life.  But her father has devastating news, her college money is gone; poor investing on his part.  Lulu is confounded but determined.  When a still is delivered to the junkyard where she and her best friend Roni work, Lulu proposes a preposterous plan to make and sell enough moonshine for college tuition.  Even with Roni's boyfriend involved, no one knows the exact science to making moonshine without the threat of blowing up the still and each other in the process.  That's when Mason joins in the unconventional plan.  His family's wealth originated and is sustained from generations of shining, but an unfathomable melancholy from his past has left him extradited from the family business.  With his vices, he prefers this new life.  But when Lulu asks for advice, Mason uses his knowledge and connections to help.  What she doesn't consider is how strong the allure to moonshine is for him, how it may destroy him in the process, or how she impossibly and irrevocably has fallen in love with him.  If her plan is successful, how will she ever be able to part with Mason at the end of the summer?
Full of regret, tenderness and passion, Lulu's narrative is questionably a mixture of confession and regret, an admission of guilt as well as an invitation to a new beginning.
Realistic Fiction            Christine Massey, JWP Middle School