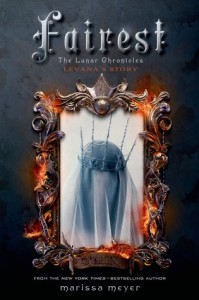 Meyer, Marissa. Fairest. New York: Rampion Books, 2015. 978-1-250-06055-6. 220 p. $17.99. Gr. 6-12.
What makes someone a monster? Queen Levana's dark, twisted and somber history is finally revealed in the companion book to the wildly popular Cinder series, and she is much more than a typical villain. Years before Cinder is even born, Levana is in an accident that leaves her permanently disfigured. Gifted in "glamour", Levana changes her physical appearance and finds herself second in line to the Lunar throne after her parents are murdered. Horribly self-conscious and in love with palace guard Evret, Levana glamours him too, and he and his daughter Winter move into the palace. Soon, her older sister, Princess Channary, becomes Queen and produces an heir, Selene, while Levana's relationship with Evret becomes increasingly strained. After the unexpected death or Channary, Levana finds herself Queen Regent, and after sitting on the throne, realizes she craves the crown, and devises a dark way to become Queen. Readers will finally discover the grim, selfish actions that created the jealous, vain, and cruel Queen Levana, as well as some background into the childhood of Selene and Winter. As a bonus, readers will be delighted to find the first 3 chapters of Winter at the end of the book.
Fantasy, Science Fiction            Vicki Schwoebel, Friends' Central School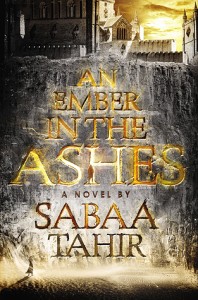 Tahir, Sabaa. An Ember in the Ashes. New York: Razorbill, 2015. 978-2-59514-803-2. 446 p. $19.95. Gr. 9-12.
Tahir's strong debut easily stands out as one of the best young adult novels of 2015. Laia lives with her brother and grandparents in an oppressed, brutal world where swearing loyalty to the Empire is the only way to stay alive. When a masked force invades Laia's home, kidnapping her brother and murdering her grandparents, Laia decides to risk her life and join the rebellion to save her brother. She enters Blackcliff Academy, the military school where the empire's assassins are trained, and meets Elias, one of the elite students, whose dedication to the school and it's ruthless leader, the Commandment, strongly waver. Through dueling narratives, Tahir brings Laia and Elias to life, and creates a glittering line of hope and love in a dark, eerie world. Interweaving political intrigue, incredible world-building, and nods to historical cities like Rome, Tahir creates action and drama that will make readers have trouble putting this one down. The success of this debut has lead to a sequel, which will be publish in Spring 2016. Give this one to fans of The Winner's Curse or Red Queen series.
Dystopia, Fantasy      Vicki Schwoebel, Friends' Central School