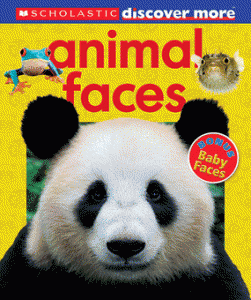 Arlon, Penelope and Tory Gordon-Harris.  Animal Faces (Scholastic Discover More series).  New York:  Scholastic, 2015.  978-0-545-79121-2.  32 p. $7.99.  Gr. K-3.
This book explores the faces of many different wild animals.  Some of the areas explored in this text include senses, mammals, birds, reptiles, frogs and amphibians, and fish.  An index, table of contents, and reference to a digital companion book are included.
590; Animals       Anastasia Hanneken, School Lane Charter School
Young readers will really enjoy the bright illustrations and topics covered in this book.  In my media center, animal books are always a hit, especially with my youngest students.  The text is presented in small blurbs rather than large paragraphs.  This makes reading this book especially easy for K-3 level.  This book is recommended for any library in need of a nonfiction animal book for the K-3 audience.