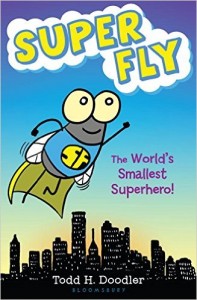 Doodler, Todd H. Super Fly: The World's Smallest Superhero! New York: Bloomsbury Children's Books, 2015. 978-1-61963-379-7. 115p. $15.99. Gr. 1–3.
Eugene Flystein is a fourth grade fly who's just moved to the town of Stinkopolis with his family. Eugene takes after his inventor father, and he spends all his free time reading and jotting down ideas for inventions in his Top-Secret Robot Notebook. On the first day of fourth grade, he befriends a flea named Fred and has a run-in with the class bully, a cockroach named Cornelius. After school, Eugene shows Fred his best invention to date: the Ultimo 6-9000, a machine that increases physical strength and intelligence by 9,000 times in just six seconds. The friends devise a plan to use the Ultimo-6-9000 as a defense against Cornelius if he bothers them again. But, their plan goes awry when they accidently hit Cornelius with the invention, making him the most feared and dangerous bully ever. There's only one way to stop Cornelius: Eugene must invent a way to morph into Super Fly!
Early Chapter Book    Anne Bozievich, Friendship Elementary, Southern York Co.
This title's brief chapters and short sentence structure will appeal to beginning chapter book readers. The cartoonish black-and-white illustrations and gross-out humor will also hook reluctant readers.  In my school, the most popular audience for this title has been boys who gravitate towards the Captain Underpants and Ricky Ricotta titles.