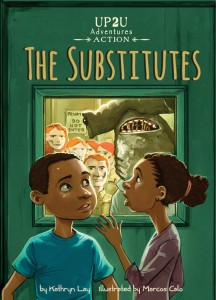 Lay, Kathryn.  The Substitutes (Up2U Adventure).  Minneapolis, MN:  ABDO, 2015.  978-1-62402-095-7.  79p.  $18.95.  Gr. 3-5.
Josh and Jenny's school is crawling with substitute teachers, and they are unsure where all their classroom teachers have gone.  One day they return from lunch, only to find another new substitute in their classroom.  They decide they must get to the bottom of this before these substitutes take over their school.
Adventure; Choose-Your-Own-Adventure      Anastasia Hanneken, School Lane Charter School
Students will enjoy this adventure story.  The story is fast paced and readers are able to choose their own adventure or path for the story.  Place this in the hands of your reluctant readers.