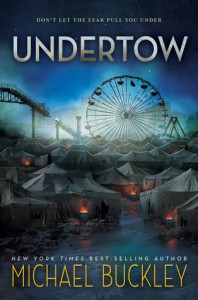 Buckley, Michael. Undertow. Boston: Houghton Mifflin Harcourt, 2015. 978-0-544-34825-7. 384 p. $18.99. Gr. 8 and up.
Lyric Walker was just fourteen when the Alpha emerged from the Atlantic Ocean and set up a makeshift camp on the beach near her Coney Island home. Not only was she an eyewitness to their arrival, she also learned that her own mother was an "original" Alpha scout sent ahead to learn about the humans. Three years later, six Alpha teens are slated to integrate Lyric's high school, and she is assigned to help their crown prince assimilate. Hanging out with the fiercely proud heir to an underwater warrior culture is every bit as dangerous as it sounds. Lyric's romantic feelings for Fathom don't simplify things; neither do the aggressively anti-Alpha protestors who surround her school every day. Lyric and her family are soon in a race against time to escape Coney Island before their identity is revealed, mob rule takes over, or worse. THOUGHTS: Undertow will capture your attention from the moment you see the cover art and hold it all the way through the final page. This is YA sci-fi adventure at its finest, with more to come in Raging Sea, due out in February!
Science Fiction    Amy V. Pickett, Ridley High School
Undertow
has broad appeal for both boys and girls. After I showed the novel's arresting book trailer (
https://www.youtube.com/watch?v=C-GlaEqPf_w
) my students were lining up to read it! With all the echoes of immigration, the Cold War, and Civil Rights issues throughout the book, there are countless opportunities for a rich book discussion. A generous excerpt, educator guide, and more are available at the Undertow Trilogy web site (
http://undertowtrilogy.tumblr.com/
).