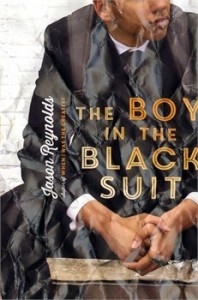 Reynolds, Jason. The Boy in the Black Suit. New York: Atheneum Books for Young Readers, 2015. 978-1442459502. 255 p. $17.99. Gr. 8 and up.
Matthew Miller's mother passed away from breast cancer at the very beginning of his senior year in high school, leaving Matt and his father struggling to put their lives back together. To fulfill his work study requirements, Matt takes an after school job at a funeral home. He sets up tables and chairs for the repast, serves as a pallbearer, and does other odd jobs for his boss, Mr. Ray. As Matt's father begins to drink more heavily, and then winds up in the hospital after a drunken collision with a cab, Mr. Ray takes on a protective role in Matt's life. Matt takes to his work at the funeral home and begins wearing his black suit to school and work every day. He also sits in on strangers' funerals and takes comfort in knowing he is not the only one in the world who is grieving. At one of these services he connects with Love, his neighborhood crush, whose grandmother has just died. Matt and Love's relationship is both sweet and realistic, with touches of humor and sass. Matt's quest to redefine himself without his mother is at the heart of this coming-of-age novel by the very talented Jason Reynolds. In the world he's created, everyone is nursing some kind of sorrow, and connecting with other people is the best way to heal.THOUGHTS: Jason Reynolds puts a fresh spin on timeless themes of first love and first loss. This character-driven novel is a great fit with the current "We Need Diverse Books" movement, but it has a timeless quality, too.
Realistic Fiction      Amy V. Pickett, Ridley High School
Jason Reynolds won the 2015
John Steptoe New Talent Award
for his novel,
When I Was the Greatest
. 
All American Boys
, cowritten with Brendan Kiely (author of
The Gospel of Winter
), has just been published. It will be exciting to see what he does next!