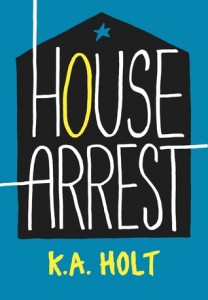 Holt, K.A. House Arrest. San Francisco: Chronicle Books, 2015. 978-14521-3477-2. 304 p. $16.99. Gr. 6-10.
Timothy makes a bad decision for all the right reasons. Dealing with a baby brother with a serious medical condition and a single mother facing deep financial burdens, Timothy takes measures into his own hands to help his struggling family. His bad decision gets him court ordered house arrest for a full year, a weekly check-in with a probation officer, sessions with a therapist, and journal writing to document his thoughts (which of course is under lock and key). Author K.A. Holt manages to take Timothy's journal entries and turn them into poetic redemption. THOUGHTS:  This unique novel in verse will reach out to middle grade readers with passages that are, at times, both comical and touching.
Realistic Fiction    Jane Farrell, Dallastown Area Intermediate
Gemeinhart, Dan. The Honest Truth. New York: Scholastic, 2015. 978-0-545-66573-5. 240p. $16.99. Gr. 5-8.
Mark is determined. Determined to climb Mt. Ranier, determined to keep it from his parents, and determined to let his best friend since forever know he will be okay no matter what. Mark sets off on his journey alone. Armed with his camera and notebook full of Haiku, Mark devises a plan to go. However, before he can get started, he throws the people who love him and worry about him the most off his trail. It's not that his mother and father would not be supportive of his Herculean dreams. It's just that they don't want him to miss the chemotherapy treatment he has scheduled for the next day. Yeah, there's that. Faced with death, the threat of a snowstorm, no gear to climb the mountain, and very little money to keep him healthy for the climb, Mark sets off determined to make the climb of his life. His best friend, Jessie, can only worry about him, hoping he makes it before she spills the secret she has to keep. With the characters he meets and the adventures he faces, Mark's odyssey becomes a life lesson even when survival at home seems pointless.
Readers will keep hoping for a happy ending for this boy. Told through the alternate voices of Mark and his best friend, Jessie, the book gives readers a hole in their stomach to ultimately fill. Gemeinhart creates characters who want to be loved and have their voices heard; a boy who is sick of facing death leaves his family to face another sort of danger and that tiny act brings a new level of courage to his fight. Jessie has a fight on her own, facing the inner conflict of taking Mark's parents to where she knows he is or letting her best friend die from what he chooses; not from what chooses him. This is a great read for middle grade readers who are interested in The Fault in Our Stars.  This book is one best read alone and with tissues.
Realistic Fiction      Brooke Gerlach, Manheim Central Middle School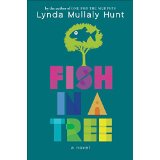 Hunt, Lynda Mullaly. Fish in a Tree. New York: Nancy Paulsen Books, 2015. 978-0-399-16259-6. 288p. $16.99. Gr. 5-8
Lynda Mullaly Hunt, author of One for the Murphys, hits her new book, Fish in a Tree, out of the park. Ally, the daughter of a soldier stationed overseas, has moved around for much of her educational career.  Landing in 6th grade, she has mastered the ability to be under her teachers' radars by acting out and diverting attention from her lack of ability.  After making a huge error at her pregnant teacher's baby shower, Ally is sent to the office where she finds out she will be transferred again; this time into Mr. Daniels's class.  It's there she discovers what she is good at and starts to gain the confidence to build on her academic skills while building bonds with her classmates and teacher. Even Ally's older brother sees the benefit of Ally's hard work.  THOUGHTS: A middle level read, this book has the ability to engage students who may have academic issues. This book would be a perfect choice for a discussion group or literature circle investigating the reason why students may want to hide things about themselves.
Realistic Fiction    Brooke Gerlach, Manheim Central Middle School