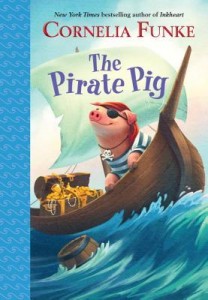 Funke, Cornelia. The Pirate Pig. New York: Random House, 2015. ISBN 978-0-385-37544-3. 56pp. $9.99. Grades 2–5.
This high seas tale features Stout Sam the sailor and his deckhand, Pip. The duo lives in a small beach hut, and they spend time ferrying cargo to the neighboring islands. Life is peaceful until the day a barrel containing a pig washes up on their beach. Since they can't very well send the pig back out into the ocean, the kind-hearted sailors make room for her in their hut and name her Julie. Although Julie is afraid of water, Sam and Pip soon discover she has a hidden talent: her sensitive snout can sniff out underwater treasure. A treasure-sniffing pig is a hot commodity on the open seas, and before long, Julie is pig-napped by Barracuda Bill and his pirate crew. Sam and Pip must take on the meanest and greediest pirate of them all if they want to rescue their beloved pig. Although this title reads like an easy chapter book, it is not divided into chapters. However, colorful illustrations accompany every spread, and the pictures complement the dialogue-rich text. This title will appeal to adventure fans, and beginning chapter-book readers will be drawn in by the pirate lingo and diagramed ship illustrations.
Adventure         Anne Bozievich, Friendship Elementary, Southern York County SD
Although not as well-written as the Mercy Watson tales, this pig title will appeal to the same age-group. This book was originally published in German, but the translation is good, and it's very readable in English. The vibrant watercolor illustrations enhance the story and bring the sailors, pirates, and pig to life.
Hale, Shannon. Princess Academy; The Forgotten Sisters (Princess Academy Book 3). New York: Bloomsbury, 2015. 978-1-61963-485-5. 324p. $17.99. Gr. 4-7.

Miri has finally completed her year at the Princess Academy. Now she is dreaming of returning home to see her father and sister and her beloved Mount Eskel . Peder also plans to ask her father for her hand in marriage, but now the king has a special assignment for Miri. She must become a tutor to three sisters who are living on the far edge of the kingdom. Rumors of war have caused the king to try to make an alliance with the advancing Storan king. He has promised that King Fader may marry a royal princess, and these cousins are the only ones eligible. Miri must educate them in hopes that one of them will be chosen and save the kingdom from war. When she arrives, things are stranger than she imagined. The girls are almost wild, hunting and fishing to survive on their own. Their mother has died, and an evil village council man has been stealing their allowance from the king. Miri begins to get to know the girls and realizes that her letters are not being delivered, so no one knows the desperate conditions they are in. So Miri, showing true strength and determination from her Mount Eskel roots, starts to plan and learn as much as she can in the swampy town of Lower Alva and sets out to outwit the thieves, educate the princesses, and save the kingdom from war.
This is the third book in the series by Shannon Hale that began with the Newbery Honor title, Princess Academy. These books are wonderful books about girls using their own special talents to shine. Miri and the other girls at the academy all learn to use their gifts to benefit each other and their kingdom. This latest episode continues to show that by working with their strengths and supporting each other, girls can do anything. An exciting and empowering journey that resonates for girls of all ages!

Fantasy      Donna Fernandez, Calvary Christian Academy