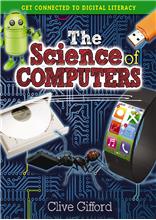 Gifford, Clive. Get Connected to Digital Literacy (4 volume set with 2 titles forthcoming). New York: Crabtree, 2015. 32 p. Gr. 3-6.
Awesome Algorithms and Creative Coding. 978-0-7787-1508-5.
Computer Networks. 978-0-7787-1509-2.
The Science of Computers. 978-0-7787-1510-8.
Amazing Applications and Perfect Programs. 978-0-7787-1507-8.
This is a series of books that introduces elementary school students to the science behind computers. From the history of computers to their components and how they work, The Science of Computers helps students understand more about how these machines. Computer Networks explains everything from the web and internet to social media. This book covers email, search engines, and filtering searches as well. It also includes cyber-safety tips. Amazing Applications and Perfect Programs gets rather specific with operating systems. But, it then goes on to explain more common processes such as using folders, file types, word processing, and even gaming. Last, Awesome Algorithms and Creative Coding offers readers an overview of how computer programs run on algorithms and explains basic coding. Using steps with blocks, as in Scratch, and flow chart designs, it describes the steps in creating code and the secret behind apps and other common uses.
Libraries often do not invest as much in books on technology since the field is constantly changing, making up-to-date titles a challenge. This series, published earlier this year, is extremely current, tackling concepts of high interest to tech-minded students. The nonfiction text features make it very user-friendly. It has a table of contents, index and glossary. Within the pages, brightly colored graphics and modern photos and icons hold students attention. Certain features appear in each text, including "Stretch Yourself" with a challenge for readers to complete, "True Story" with "cool" facts, and "Computer Heroes" which has mini-biographies on famous computer people. Website links are current and accurate. THOUGHTS:  If your collection needs books on technology, this would be an excellent addition.
005; Digital Literacy        Lisa Weiss, Churchville Elementary School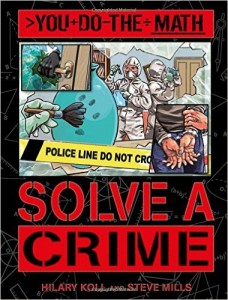 Koll, Hilary and Steven Mills.  You Do the Math (series). Irvine, CA: QEB Publishing, 2015. 32 p. $17.95 each. Gr 3-5.
Solve a Crime. 978-1-60992-732-5.
Build a Skyscraper. 978-1-60992-730-1.
Fly a Jet Fighter. 978-1-60992-731-8.
Launch a Rocket Into Space. 978-1-60992-729-5.
How do you get kids more interested in applying math to real life? Try showing them how cool careers rely on all types of math skills to help them. That's the concept behind the You Do the Math series, and for the most part it works to build interest and action to the subjects. Using a mix of comic book style illustration and formating, with activities on differentiated levels, the reader is part of the challenge. In Solve a Crime, readers not only follow the detectives and CSI agents to gather evidence, but also chart and graph, measure, and examine the clues to narrow down the suspects. There is not much instruction of the mathematical skills, so prior knowledge would be advisable. Plus, some of the challenges could require a notebook and calculator, making the tasks for each career seem all the more realistic.
THOUGHTS: It's worth noting that even if the students aren't interested in trying the math challenges, they will still learn career skills and enjoy participating in the story. There are red boxes labelled "What About This?" for advanced learners, and an answer key in the back for all questions.
510: Mathematics       Dustin Brackbill State College Area School District
Checkerboard Animal Library Dogs (Set #12 of series). Minneapolis: ABDO, 2015. 24p. $25.00 ea. Gr.2-4.
Finne, Stephanie. Collies. 978-1-62403-673-6.
Finne, Stephanie. Dachshunds. 978-1-62403-674-3.
Finne, Stephanie. Golden Retrievers. 978-1624036750.
Finne, Stephanie. Old English Sheepdogs. 978-1-62403-676-7.
Finne, Stephanie. Yorkshire Terriers. 978-1624036774.
Kallen, Stuart A. Beagles. 978-1624036712.
Discover the many breeds of dogs and how to identify each one. Meet the high energy heavy coated Old English Sheepdog, the sweet little dachshund, and four other breeds in this 12th set of the series! Find out which dog might be right for you, and how to care for it. This series describes the history, biology, habits, and required care for dogs of all types.  THOUGHTS: Full-color photos, easy-to-read text, a glossary and an index make these books perfect for either research or general reading!
636.7; Dogs      Robin Bartley, Davis Elementary
Daily Life in U. S. History (series). Minneapolis: ABDO, 2015.48p. $32. Gr. 4-6.
Halls, Kelly Milner. Life During the Civil War. 978-1624036255.
Onsgard, Bethany. Life During the California Gold Rush. 978-1624036248.
Lanier, Wendy H. Life during the Great Depression. 978-1624036262.
Garstecki, Julia. Life During the Industrial Revolution. 978-1624036279.
Hinman, Bonnie. Life During the Revolutionary War. 978-1624036286.
This series explores the lives of men, women, and children during various events and periods in US History from multiple viewpoints. They include primary source information, sidebars with key ideas, a stop and think at the end of the book to aid in discussion. Graphics include photos, maps, drawings, charts and graphs. THOUGHTS: The series would be an excellent resource to extend the classroom text, bringing a very human perspective.
973; U.S History     Robin Bartley, Davis Elementary