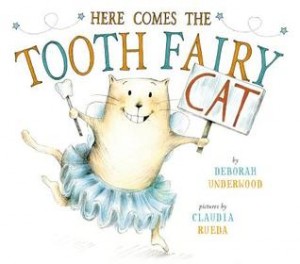 Underwood, Deborah. Here Comes the Tooth Fairy Cat. New York: Dial Books for Young Readers, 2015. 978-0-525-42774-2. Unpaged. $16.99. Gr. K-3.
Deborah Underwood's delightfully spunky Cat is back and missing a tooth. In true Cat fashion, he tries to use some creative thinking and trick the Tooth Fairy into leaving him more money. The Tooth Fairy is too smart for Cat, though, and instead convinces Cat to help with a few deliveries…and to work with a partner. Cat and partner work together successfully, and Cat gets a major surprise when he finds out that his partner is the Tooth Fairy in disguise! As always, the narrator communicates with Cat through a series of exchanges in which the narrator talks and Cat answers with comedic signs and facial expressions.  THOUGHTS:  My students love these books (Here Comes Santa Cat, Here Comes the Easter Cat), and they are constantly checked out. Chaudia Rueda's illustrations pair perfectly with Underwood's text to make giggle-worthy stories that are loved year round. This would be a great gift for a child who just lost their first tooth.
Easy Fiction        Lindsey Long, Nye & Conewago Elementaries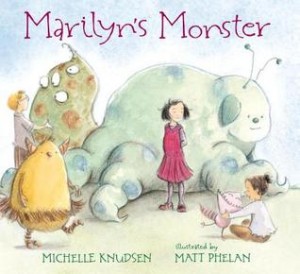 Knudsen, Michelle. Marilyn's Monster. Somerville: Candlewick Press, 2015. 978-0-7636-6011-6. 36p. $15.99. Gr. K-3.
Why doesn't Marilyn have a monster? Most of the kids in class have monsters, and Marilyn wants a monster, too. But you have to wait until your monster finds you, and Marilyn's just doesn't seem to have her address. She tries "to be the kind of girl no monster could resist", but it still doesn't happen. Marilyn goes from hopeful to frustrated and grumpy. Finally, she decides to seek out her own monster. She packs some peanut butter and banana sandwiches and gets going. After searching high and low, Marilyn finds her monster stuck in a tree. He tells her that he was lost and got scared. Good thing Marilyn went looking! She and her monster share her sandwiches and fly home, already the best of friends.
This book reminds me of The Adventures of Beekle: The Unimaginary Friend by Dan Santaat. When Marilyn's monster doesn't appear, she takes charge and finds him herself. The story speaks of going after what you want even when people tell you otherwise. Marilyn's emotional range is believable and delightfully illustrated by Matt Phelan. Phelan's monsters are colorful, quirky, and often pair nicely with their child friends. Meet Marilyn and her monster—you won't be disappointed.
Easy Fiction          Lindsey Long, Nye & Conewago Elementaries