Messner, Kate. Ranger in Time: Rescue on the Oregon Trail. New York: Scholastic, 2015. 978-0-545-63914-9. 125p. $5.99. Grades 2–4.
Ranger, a golden retriever who is trained as a search and rescue dog, loves playing outside with his owner, Luke. One day while he's digging for bones in the backyard, Ranger unearths a metal box containing a first aid kit. The discovery magically transports Ranger back to the year 1850 where he meets a boy named Sam Abbott who is travelling west on the Oregon Trail. Ranger accompanies Sam's family, and his search and rescue training helps them avoid danger as they journey westward. Ranger locates Sam's little sister when she wanders off, alerts the family to a nearby buffalo stampede, protects Sam from a rattlesnake bite, and helps rescue Sam's dad from rushing river waters. This fast-paced story is packed with adventures, and readers will also learn historical details about day-to-day life on the Oregon Trail. When Sam and his family reach Oregon, Ranger's job is finished, and the first aid kit transports him back to present-day where he's ready for his next adventure with Luke.
Historical Fiction, Animal Fiction    Anne Bozievich, Friendship Elementary School, Southern York County
This title will be a perfect supplement to social studies units that cover westward travel on the Oregon Trail. The text is easily accessible for third and fourth grade readers, and it would make a wonderful read-aloud as well. Additionally, a detailed author's note at the end of the book contains information about primary sources Kate Messner used to write this story, including diaries, journals, maps, trail guides, and artifacts. There is also information about real-life search and rescue dogs and the training they receive in order track down missing people.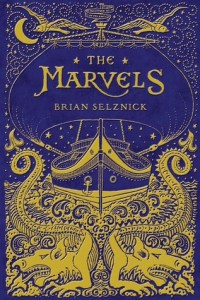 Selznick, Brian. The Marvels. New York: Scholastic Press, 2015. 978-0-545-44868-0. 665 p. Gr.3-6.
Brian Selznick has once again created a lavishly detailed story told both through illustrations and text. The illustrated story begins in 1766 with the story of Billy Marvel whose ship is destroyed in a storm. He and his brother make it to land, only to have his brother, badly injured, pass away leaving Billy alone. The illustrations continue to tell the story of Billy's life in London, getting involved in the theater and the generations of famous actors to follow him. At a crucial moment, the story turns to text in 1990, in which we meet Joseph Jervis. A runaway from school, Joseph arrives at his uncle's house in London and thus begins a new story. Albert Nightingale appears quite the eccentric uncle, living in a museum-like house that he keeps frozen in time. Naturally curious, Joseph attempts to learn more about his uncle, the house, his family and eventually ties together the two stories – illustrative and narrative.  (It should also be noted that Joseph's uncle Albert has a relationship with another man. Selznick does not come right out and discuss homosexuality or AIDS but both are alluded to in the story. Younger readers will likely not pick up on these but older readers may.)
Beautiful artwork instantly creates an emotional connection to the Marvel family, with intricate details including newspapers and letters. Readers of Selznick know the stories will eventually intertwine, yet it is deliciously drawn out as readers are given clues and random ideas to ponder. Profound quotes are sprinkled in the text, including the theme "You either see it or you don't." Finishing the book leaves the reader a bit bereft, almost with a desire to read it over simply to be immersed in the world of the Marvels once again.
Realistic Fantasy      Lisa Weiss, Churchville Elementary School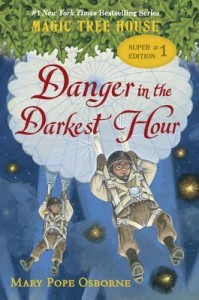 Osborne, Mary Pope. Danger in the Darkest Hour. (Magic Treehouse, Super Edition #1). New York: Random House, 2015. 978-0553497724. 180p. $13.00. Gr. 3-5.
The first book of the new Super Edition series finds Jack and Annie appearing older (though their age is not stated) and parachuting into France to help their friends, Teddy and Kathleen, during the Nazi Occupation in 1944. The book is a natural progression for fans of the original series who have reached the preteens and are ready for a somewhat longer, more complex story allowing for the more mature subject matter of World War II.  THOUGHTS: An excellent segue for loyal fans into a new level of exposure.
Historical Fiction        Robin Bartley, Davis Elementary