Stein, Peter. Little Red's Riding 'Hood. New York: Orchard Books, 2015. 978-0-545-60969-2. 40p. $16.99. Gr. K–2.
Little Red is a scooter who loves racing around the streets in his neighborhood. After learning that Granny Putt Putt is feeling run-down, he rides over to her garage to deliver some goodies that will get her back in working order. Along the way, he encounters a huge monster truck named Tank who diverts his trip. As Little Red makes a pit stop to pick up additional items for Granny's basket, Tank zooms ahead to Granny's house, bursts through her garage door, and swallows her whole. Although Tank disguises himself with a frilly car cover, Little Red's caution lights flash when he arrives at Granny's garage. He closely examines "Granny's" wheels, headlights, and grille before Tank throws off the disguise and attempts to have some scooter dessert. Little Red is too quick, though, and he leads Tank on a high-speed chase that culminates in Tank's crash-landing in Jumbo Jim's Junkyard. Granny pops out of Tank's hood, and she thanks Little Red for being the bravest scooter in town.
Picture Book              Anne Bozievich, Friendship Elementary, Southern York Co.
This fractured fairy tale will be a great addition to most elementary collections. Car fans will enjoy watching Little Red scoot around town, and they will pick up on details like Tank's pointy fangs and yellow wolf-like eyes. I plan to share this title with third grade teachers as they introduce fairy tale variations because this title has a lot of great parallels to the traditional Red Riding Hood story, making it great for comparing and contrasting.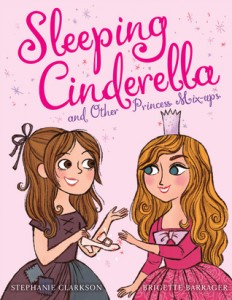 Clarkson, Stephanie. Sleeping Cinderella and Other Princess Mix-Ups. New York: Orchard Books, 2015. 978-0-545-56564-6 34p. Gr. K-3.
Did you ever wonder if a princess was dissatisfied with her life? Clarkson does, and her clever humor and rhyming text explain what happens. Cinderella, Snow White, Rapunzel, and Sleeping Beauty are all a bit unhappy with their various surrounding and situations. One by one, the princesses trade places. Snow White moves in to Rapunzel's tower; Rapunzel heads to Cinderella's ball; the latter rests in Sleeping Beauty's bed who then heads to Snow White's cottage. Of course, none of these new options work out to be for the better, and they do eventually return to their original "stories." However, they have each learned some lessons along the way and make improvements to their situations. (For example, Snow gets the dwarves to help with the housework!)
While the lesson of "the grass is always greener…" may be lost on younger readers, the cute text and illustrations will not. The rhyming text is lyrical, not forced, and the word choice is interesting, making it a somewhat more complex read than found in simpler rhyming texts. The prevalence of pink and princess characters will engage Disney fans, but the quirky style will also appear to older elementary grades. A great addition to a fractured fairy tale unit!
Picture Book      Lisa Weiss, Churchville Elementary School
Pham, LeUyen. There's No Such Thing as Little. New York: Alfred A Knopf, 2015. 978-0-385-39151-1. 44 p. $17.99. Gr. PreK-2.
Two little children repeatedly prove that size is a state of mind, and perspective in this thoughtful little book. The pattern is simple, with a question on one page about something small which turns into a piece of something much grander with the refute on the next page. Die-cut circles draw the observer through the pages and connect the text to the picture for interpretation. For example, a little light bulb idea is part of a grand invention; likewise, a little letter becomes an important letter for literature. There will be interesting dialogue as younger readers make meaning of the story and then seek to apply it. "A little book? No, a BIG book!" THOUGHTS: This is tough to make a perfect age level fit because the characters are pre-school age, but the thoughts and skills to decipher the text may be more suited to elementary. Still, it's a worthy purchase for read aloud use or solo book selection.
Picture Book            Dustin Brackbill, State College Area 
Balmes, Santi. I Will Fight Monsters for You. Chicago: Albert Whitman & Co., 2015. 978-0807590560. 32p. $16.99. Gr. K-2.
Martina, a little girl, and Anitram live in mirrored worlds. Both are afraid to fall asleep for fear of the other. When Martina's father promises that he will fight the monsters for her, Martina finally drifts off to sleep. As her arm hangs off the bed and accidentally joins that of the little monster below, they suddenly overcome their fears.  THOUGHTS: Illustrations are a black ink with a soothing pastel palette of pink and blue. Perfect for one-on-one or could be used as a read aloud.
Picture Book        Robin Bartley, Davis Elementary