Gratz, Alan. Code of Honor. New York; Scholastic, 2015. 978-0545-695190 278 p. $17.99 Grades 6-12.
Kamran Smith is living a great life: senior football star, he and his girlfriend are homecoming king and queen, and he has strong family ties, especially with his brother, who's eight years his senior. He's even on track to attend West Point and enlist in the Army, following in his brother Darius' footsteps. Sure, his mother is from Iran, and he looks Iranian, but he's 100% accepted, 100% American.
Until.
Until Darius appears in a terrorist video broadcast on American TV, spewing anti-American religious rants, standing by while an American journalist is beheaded, and pronouncing coming destruction.  It's bad enough seeing the videos and facing his own questions—dealing with the personal fallout in his community is worse. His girlfriend dumps him; his best friend doubts Darius (and Kamran); news crews hover and torment; his parents are just holding it together. Then Homeland Security ransacks their home for information and takes Kamran and his parents into custody. The questioning makes Kamran question his own conviction that Darius is innocent, that the "code of honor" he and Darius pledged to one another still stands strong.
Until.
Until Kamran really listens to the videos of Darius and discovers his brother mixing up the stories with heroes and villains they once pretended to be. It doesn't make sense—or does it? Could Darius be sending messages in the videos? The authorities don't believe it, except maybe one…. Or does he? Does Kamran believe himself? Soon Kamran finds himself outside the walls and in a race to prove his brother's innocence. Will he get to do so? What if Darius is not so innocent? Does their Code of Honor have meaning to anyone but Kamran? This is a tense action story that has Kamran and the reader changing their minds about Darius' intent, and what the outcome should or will be. Violent but not gory, certainly a realistic plot, Gratz wraps up this story ever so neatly. Safe for middle school and thought-provoking about trust, honor, and loyalty.
Realistic Fiction     Melissa Scott, Shenango High School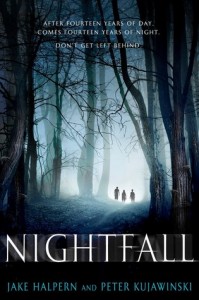 Halpern, Jake and Peter Kujawinski.  Nightfall.  New York: G.P. Putnam's Sons, 2015. 978-0-399-17580-0.  368 p. $17.99.  Grade 7 and up.
From its very beginning, Nightfall builds a sense of foreboding in readers.  Marin and her twin brother Kana live on the island of Bliss.  The residents of Bliss live in daylight for 14 years, but when the sun sets at the end of the cycle, they must migrate to the desert lands to wait until the next sunrise on their island fourteen years later.  Before the tide retreats and they sail away, each family performs a series of intricate rituals; deep cleaning, moving furniture, placing items throughout the house, and removing locks.  The description of these rituals is the reader's first clue that there are "nighttime" inhabitants of the island.  On the day of departure, Line, a close friend of Marin and Kana is missing from the oceanfront.  Marin and Kana decide to search for him during chaos of the departure.  In the end, all three teens are left behind.  They try desperately to find a way off the island, are pursued by the nighttime "creatures", and find out some uncomfortable truths about themselves and the inhabitants of Bliss.  This is creepy, mysterious and, ultimately, enjoyable tale.  THOUGHTS: I would not consider this book to be an outstanding or innovative work of literature.  However, it is an enjoyable and fast-paced read, guaranteed to send a shiver up your patrons' spines. It is a perfect addition to your Halloween collection.
From the outset of the novel, it is clear that the darkness is something to be feared and that monstrous creatures inhabit the island at night.  However, the authors do an expert job of making the obvious elements of the story surprising and scary.  Each of the main characters in Nightfall has a secret and has told lies, so there is an element of suspicion throughout the novel.  The plot twist involving Kana is truly unexpected and the reader will begin to question who the good and bad guys really are.  In the final scene, Marin, Kana, and Line escape the island, so there may be a sequel (set in the desert lands) in the works.
Dystopian, Horror                Susan Fox, Washington Jr./Sr. High School