Gerber, Carole. Stingrays! Underwater Fliers.( A Step into Reading Science Reader, Level 3). New York: Random House, 2015. 978-0-449-81308-9. 48p. $3.99. Gr. 1-2.
Stingrays have fascinated humans for many years. The stingray is not only an expert at camouflage, but a cunning and quick creature . Stingrays hide to both hunt and hide from predators such as sharks and whales. There are hundreds of types of stingrays living in oceans and rivers.
This non-fiction beginner science book has lots of action and many illustrations and photographs of stingrays. The shark attack may be intense for some sensitive readers, but illustrates how stingrays use their skills to avoid their predators. This book would be a great non-fiction selection since many children may have visited the stingray touch pools that are common in aquariums and tourist sites and could actually make text–to-world connections about these beautiful creatures.
Animals       Donna Fernandez, Calvary Christian Academy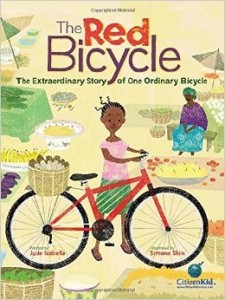 Isabella, Judith. The Red Bicycle; The Extraordinary Story of One Ordinary Bicycle. Tonawanda, NY: Kids Can Press, 2015. 978-1-77138-023-2. 32p. $18.95. Gr. 3-6.
Follow the journey of one small red bicycle from the moment a young North American boy spends his hard earned mowing money to buy it, to the shores of Ghana in Africa. This wonderful journey tells how the gift of a bicycle changed a young African girl's life in Burkina Faso. The bicycle's journey continues to a clinic, where it is fitted with an ambulance stretcher and used to save sick and injured villagers.
This tale is a wonderful moment to teach children about giving and how their generosity can change the lives of others. The global themes in the book open children's eyes to the needs of others and how a bicycle can be used for so much more than entertainment. This would be a thoughtful addition to a unit on global citizenship or Africa. The back of the book lists several organizations that collect used bicycles and redistribute them to needy countries.
Social Studies Picture Book          Donna Fernandez, Calvary Christian Academy
Spier, Peter. The Book of Jonah. New York: Doubleday Books for Young Readers, 2015. 978-0-385-37909-0. $17.99. Gr. K-5.
Peter Spier's retelling of Jonah was originally published in 1985. Jonah's story is one of the more well-known Bible stories, and Spier's version is excellent. When God asks Jonah to go to Ninevah and spread the message that the people need to change their ways, Jonah runs from God and boards a ship. God creates a powerful storm, and Jonah realizes that he cannot run from God and goes to Ninevah to tell the important message. The people take his message to heart, and he ultimately accepts God's word.
Spier's classic style involves lovely watercolors, and this story is told using both text and multi-paneled illustrations. One spread shows Jonah entering Ninevah and speaking to the people through a series of six illustrations spread over two pages. This updated version contains excellent end material. There are several pages detailing the historical aspects of Jonah's voyage through the geography of his time, including maps of the Assyrian Empire in the 8th Century BC, a map of Ninevah's ruins, and even a cross-section of a ship like the one he travelled on when fleeing from God. The material includes current news about the story including a mention of the July 24, 2014, bombing of the Tomb of the Prophet Jonah by a terrorist group. This updated version will make an excellent addition to your 200's shelves.
221.9 Lindsey Long, Nye & Conewago Elementary Schools