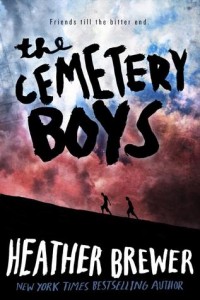 Brewer, Heather. The Cemetery Boys. New York: Harper Teen, 2015. 978-0062307880. 48p. $17.99. Gr. 9 & up.
Forced to make some huge changes, Stephen is moved by his father to desolate Spencer, Michigan, a sparsely populated town with an old-fashioned blue collar community. Mounting hospital bills have driven his father to move in with his estranged mother who has never engaged in a relationship with her grandson. Apprehensive Stephen befriends a set of twins, Cara and Devon. Hardened by their father's death and their mother's obvious mental health issues, Cara and Devon introduce Stephen to the town's paranormal urban myth. Meeting at the cemetery nicknamed "The Playground" on a nightly basis, the teens drop subtle clues to build up Stephen's anxiety about his new living arrangement. Even more, Stephen questions himself and his sanity, focused on his own mother's breakdown as he puts together the "Winged Ones" legend and its hold on the town. Determined to fit in and make this town a stepping stone to move on and move out, Stephen uncovers the hard truth about the myth and his new "friends". Suspenseful and filled with the unknown, the book details Stephen's inner struggle with his own demons while discovering the myth behind Spencer.
Originally, this book was chosen because it promised paranormal suspense. If I was aware of the bird myth, I would not have chosen the book, as realistic fiction is my first choice. It did not fall short in twists, fear factor, or reckless teen behavior. Filled with reckless behavior and peer pressure, the book had characters who failed to pique interest, but readers can relate to the characters' traits and those of their own peers. Loyalties and deception are paramount, keeping the reader cheering on Stephen and Cara, while disliking Devon. Educators may use this as a way to show the power of suggestion, twisted plots, and surprise endings. If nothing else, it is a guilty pleasure read to be shocked. There will be no sequel, as a definite ending is imminent.
Suspense    Brooke Gerlach, Manheim Central MS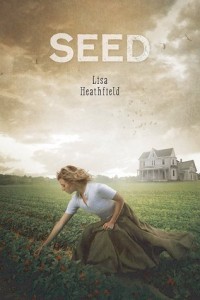 Heathfield, Lisa. Seed. Philadelphia: RP Teens, 2015. 978-0762456345. 336p. $16.95. Gr. 8 & up.
Seed is home for 15-year-old Pearl. Within the first pages of the book, Pearl is being held in seclusion as she goes through her first monthly cycle.  Confused and frightened, she is helped through the week by a woman who Pearl wishes to be her "biological mother". A child of Nature, Pearl does not know her biological mother. In Seed, girls are raised to become companions of Papa S. Each girl, after they have successfully gotten through their first menstrual cycle, will eventually be chosen to spend time in Papa S's living quarters.  Old enough to finally be a companion to Papa S., Pearl is confused when Ellis, a well-rounded and versed young man, moves to Seed with his mother and younger sister. Selling produce to the outside world, members of Seed are discouraged from creating acquaintances, much less friends.  Therefore, when Pearl's friend strikes up a conversation with a boy from the outside, Pearl becomes fearful of the repercussions.  Pearl begins to question the world around her and the people who she once thought protected her. Eventually, Pearl has more questions than answers in her quest for what is real and what is her perceived reality.
Heathfield creates a book rich in the power of brainwashing and mind control. Reminiscent of recent polygamist cults, the book details a cult in which Nature is considered as supreme mother and to be held in high regard. The characters are similar to polygamists who have asked congregations to abandon worldly possessions and live secluded from the norms of society. Heathfield creates the characters to further aid Pearl in her search for answers.  Readers will do a lot of self talk with this book, especially when female characters are made to lie with grown men. Educators will be able to discuss the ways in which cult mentality is formed and the characteristics of human behavior in a group. Recommended for grades 9-12.
Realistic Fiction       Brooke Gerlach, Manheim Central MS