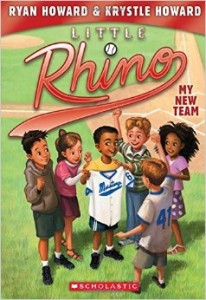 Howard, Ryan and Krystle Howard. Little Rhino: My New Team. New York: Scholastic, 2015. 978-0-545-67490-4. 96pp. $4.99. Grades 2–3.
Rhino rushes home from third grade every afternoon to play backyard baseball with his grandfather. But one day, Grandpa James has a big surprise: he's signed Rhino up to play in a real baseball league! Rhino can't wait to wear a real jersey and hat like the pros! He's excited for his first day of practice until he finds out the class bully, Dylan, is on his team. Rhino must learn how to be a good teammate and a good sport, even when he doesn't get along with all the players on his team.  This is the first title in a beginning-chapter-book series written by Major League baseball player Ryan Howard and his wife. The Howards do a nice job balancing on-the-field baseball action with interpersonal dynamics all young readers must learn how to deal with. This title tackles sportsmanship, bullying, standing up for yourself, and making new friends all while centering on the excitement of playing on a sports team for the first time. This title has been especially popular with my second and third grade boys.
Sports Fiction                   Anne Bozievich, Friendship Elementary, Southern York County
Howard, Ryan and Krystle Howard. Little Rhino: The Best Bat. New York: Scholastic, 2015. 978-0-545-67493-5. 96pp. $4.99. Grades 2–3.
In this second title in the Little Rhino series, Rhino is excited to receive a brand new bat from Grandpa James for working hard both in the classroom and on the baseball field. Rhino can't wait to use the bat in his team's first official game on opening day! But when he returns to the dugout after practice one afternoon, his new bat is missing. Mysterious clues start appearing in Rhino's cubby at school, and it's up to Rhino to piece them together if he wants his bat back before the team's season opener.  This title is a solid follow-up in the series, and like the first book, it strikes a balance between game-time action and off-the-field interactions with Rhino's family and friends. While the first title focused on good sportsmanship, how to handle bullying, and how to make new friends, this title centers on personal responsibility, owing your actions, and treating all members of a team with respect.
Sports Fiction               Anne Bozievich, Friendship Elementary, Southern York County