Kenah, Katharine. The Very Stuffed Turkey. New York: Scholastic, 2015. 978-0-545-76109-3. Unpaged. $6.99. Gr. K-3.
Turkey is invited to five Thanksgiving dinners! He doesn't want to hurt anyone's feelings so he decides to attend all five celebrations. Each family has a delicious feast (beet, corn, and worm stew at Pig's house; birdseed, soap, and berries at Mouse's house) that is happily turkey free, and Turkey has a wonderful time. He loves spending time with his friends and feels like a part of each family. The only problem? He is stuffed from all the feasting! He decides that the best solution is to host next year's dinner and invite all his friends to his house so that they will all enjoy the holiday together. THOUGHTS: Adorable Turkey and friends are sure to be a hit with young readers during the Thanksgiving season.
Picture Book, Thanksgiving    Lindsey Long, Nye & Conewago Elementary Schools
Binny Talib's illustrations are full of autumn colors and textures that create a festive air for Turkey's many celebrations. This book is only available in paperback and won't hold up to years of library circulation but will be a welcome addition for most schools, especially where Thanksgiving books are needed.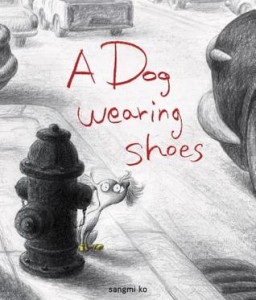 Ko, Sangmi. A Dog Wearing Shoes. New York: Schwartz & Wade Books, 2015. 978-0-385-38396-7. 40p. $16.99. Gr. K-3.
Mini and her mother save a dog wandering through traffic and Mini wants to keep the dog for a pet when they can't find his owner. The dog is wearing bright yellow shoes and Mini's mother insists that he must have an owner who misses him, but Mini is too happy with the well-mannered and trained dog to care. After the dog runs away in the park, Mini and her mom visit the animal shelter and find the dog wearing shoes. Mini realizes that someone else is probably missing the dog like she had, so she hangs up posters and finds the owner who is happy to have his dog back. A few days later, Mini and her mom visit the shelter again to adopt a dog of their own. THOUGHTS: Funny and adorable illustrations pair with an ageless story to create a winner.
Picture Book  Lindsey Long, Nye & Conewago Elementary Schools
Mini's story might not be brand new, but it's wonderful to see her visit a shelter for a dog rather than buy one at a pet store. The dog wearing shoes is spunky and hysterical, and Sangmi Ko's black and white illustrations with pops of color (like the dog's yellow shoes) are perfect with the story. This one is already flying off the shelf.